Michael J. Fox and Val Pattee receive honorary degrees and close to 300 students graduate from JIBC
Justice Institute of British Columbia (JIBC) graduates, along with honorary degree recipients Dr. Michael J. Fox and Dr. R.P. (Val) Pattee, shared the spotlight at Convocation ceremonies held May 31 at JIBC's New Westminster campus.
Dr. Fox was recognized with the honorary degree of Doctor of Laws for his accomplishments as one of Canada's most revered performers and for his commitment to raising research funding and awareness for Parkinson's disease, through The Michael J. Fox Foundation for Parkinson's Research.

JIBC Board Chair Mary Manning, Dr. Michael J. Fox, and JIBC President Dr. Jack McGee
Early in Dr. Fox's acting career he worked at the original JIBC campus on Jericho Hill in Vancouver, where he role-played in simulations designed to prepare police recruits for the rigours and demands of their policing careers.
In his speech to JIBC graduates and others assembled at Convocation, Dr. Fox recalled that when he showed up at JIBC as a 17-year-old, he was given a protective sleeve to wear for a training exercise with police dogs. At the time he had a fear of dogs, but he decided that as an actor, he would act as if he was not afraid of dogs.
"I always remember that to be a key turning point in my career and in my life," said Dr. Fox. "If you show bravery, if you show a certain amount of grit, you can get through things. And that's served me well. I know that you all have had experiences with that in your lives, and I'm just happy and proud that your grit has brought you to a place in public service, in careers in justice and public safety."
"You are a true study in character: the best kind of character," said JIBC President Jack McGee about Dr. Fox. "How you have chosen to live your life inspires us and motivates us in the way that only a few exceptional, humble, and insightful individuals each generation ever get to do. Your leadership, your fortitude, your philanthropy, and your generosity of self, all tell us the story of the capacity of the individual to be a unique force for good in this world."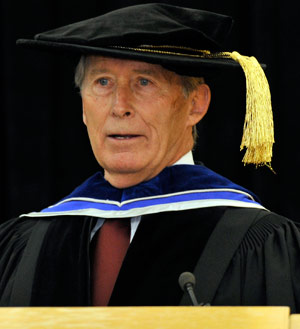 Dr. Pattee, a retired Royal Canadian Air Force pilot and Major General, was recognized for his significant contribution to justice and public safety in the province, though leadership roles as Assistant Deputy Minister of Police Services, Executive Director of BC Ambulance Service, and Chair of the JIBC Board of Governors. President McGee acknowledged his accomplishments and contributions internationally, to the nation, to the province, to the governance of JIBC and, in particular, "his leadership, innovation, insight, and vision in transforming Police and EMS/Paramedic education and training."
In addition to conferring the honorary degrees, JIBC Board of Governors Chair Mary Manning also conferred certificates and diplomas for close to 300 graduates from JIBC's three schools: School of Community & Social Justice, School of Health Sciences, and School of Public Safety & Security.
Distinguished graduates of JIBC's Police Academy Recruit Training and predecessor programs, including several current and retired police officers, were also awarded Police Studies Certificates.
Morning Convocation Ceremony
Afternoon Convocation Ceremony
Last updated April 5, 2017