Chilliwack Foundation grant funds new equipment for paramedic students
Funding enhances simulation training at JIBC's Chilliwack Campus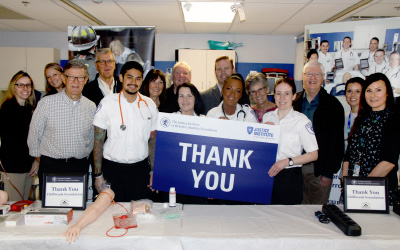 Future paramedics training in the Fraser Valley are learning with new equipment designed to help them gain life-saving skills thanks to a generous donation from the Chilliwack Foundation.
The community foundation grant funded new training simulation equipment, including Advanced Intravenous (IV) Arms, portable radios, and a specialist moulage kit with materials to create realistic looking injuries for training.
"We greatly appreciate the Chilliwack Foundation's continued support for our paramedic program in Chilliwack," said Kathy Harms, Director of the Health Sciences Division. "Medical simulations allow students to learn and practise key skills and are an essential part of JIBC's experiential learning model. Thanks to this gift, our students are learning in a more realistic environment, enabling them to be better equipped for their future careers."
Members of the Chilliwack Foundation Board and Distribution Committee recently visited JIBC to see the equipment, meet with students and staff, and learn about how the new items are improving the quality of training for Primary Care Paramedic students.
JIBC has been providing training in Chilliwack since opening a campus in the city in 2003 to specifically serve the Fraser Valley region. The Chilliwack Campus, which is located within Canada Education Park, houses a fully equipped learning lab and on-site training ambulances.
The Chilliwack Foundation has a proud history of community support that spans over 30 years, remaining a pillar of community service and leadership in the Chilliwack area since it was established in 1985. The Foundation raises funds for important causes, community needs, and initiatives that benefit service and charitable organizations in Chilliwack.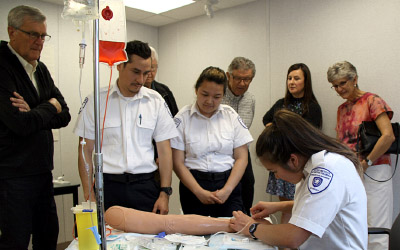 Chilliwack Foundation members observe a JIBC paramedic student at the Chilliwack campus gaining hands-on practice using some of the training equipment purchased through the foundation's support.
"The Chilliwack Foundation is pleased and honoured to provide financial assistance to this amazing program. Should we require the assistance of Primary Care Paramedics, we may all rest assured that they are receiving the best possible training, right here in our community," said Ferne Heaps, member of the Chilliwack Foundation Board and Distribution Committee.
"As JIBC celebrates its 40th Anniversary in 2018, we are especially grateful for the support of donors like the Chilliwack Foundation, whose gifts are helping to provide the best possible learning environments for our students," said Tracy Campbell, Executive Director, The Justice Institute of British Columbia Foundation. "Through its continued support, the Chilliwack Foundation is enhancing paramedic training in the Fraser Valley and contributing to the health and well-being of our communities."
About The Justice Institute of British Columbia Foundation
For almost 25 years, The Justice Institute of British Columbia Foundation (The JIBC Foundation) has inspired giving for important needs that enhance education, training, student learning and applied research at JIBC. These needs most often include student scholarships and bursaries, new equipment and technology, and other tools related to student success. As the recipient and steward of charitable gifts, The JIBC Foundation is building meaningful relationships with communities to support Canada's leading public safety educator.
Last updated October 23, 2018