Chinese students complete first semester-long international program at JIBC
Law enforcement students from the Peoples Public Security University of China complete new four-month international program about the Canadian justice system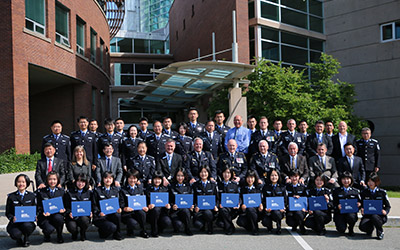 Justice Institute of British Columbia (JIBC) recently celebrated the graduation of the first group of Chinese students that completed a new four-month international program.
Between March and June 2016, a group of 25 police recruits and two professors from the People's Public Security University of China (PPSUC) completed the new International Law Enforcement Studies (ILES) program at the New Westminster Campus. Each of the participants in the group gained an in-depth education in a range of law enforcement subjects such as ethics, leadership, law enforcement communications, community policing, criminal investigations, international police cooperation and counter-terrorism.
The international delegation also received hands-on training and learned from Canadian law enforcement experience from officers of specialized units from a number of municipal police departments while visiting various Lower Mainland training centres and police stations.
"Our experience at JIBC will be a good memory that will benefit us for a lifetime," said Zhong Shi, a PPSUC student who spoke at the class graduation in New Westminster. "It was our great honour to learn from so many outstanding teachers and police officers."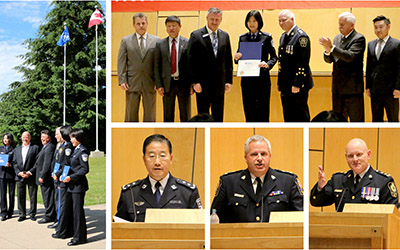 In attendance at the graduation was Dr. Michel Tarko, JIBC President & CEO; Li Jianhe, Vice-President of PPSUC; Chief Constable Adam Palmer of the Vancouver Police; Chief Constable David Jones of the New Westminster Police; and representatives from the Chinese consulate, JIBC faculty, and JIBC's Office of International Affairs.
"To each of the students, I hope you will fondly remember your four-month experience in British Columbia," said President Tarko at the graduation ceremony. "From your time here at the New Westminster Campus, and on visits to various police facilities across the Lower Mainland, I'm confident that you will have gained new insights and experiences about the Canadian justice system that you will be able to apply as you progress in your education and career back home."
At the ceremony, Mr Li, Vice-President of PPSUC, expressed his appreciation to everyone at JIBC involved in the successful completion of the program by PPSUC's students. "I owe a special note of thanks to all the teaching and training instructors involved in this joint program, for your attention and devotion to the program and to our students. Our students have the opportunity to broaden their horizon and lead a new culture in law enforcement philosophies. I believe your efforts will inspire them to new ways of thinking and new methods of learning, and will also significantly influence their future education and career development."
JIBC has continued to build on its reputation for providing best-of-class international public safety education and training. In recent years, police cadets from various law enforcement colleges in China completed two-week educational programs available at the New Westminster Campus. In 2015, more than 400 students from nine different public safety institutions completed such short-term training. Interest in more longer term educational opportunities for students led to the development of the four-month International Law Enforcement Studies (ILES) program.
Interest in ILES has continued to grow since the first group of PPSUC students began the program in March. Two other cohorts of students from other Chinese police colleges are currently nearing completion of their semester-long program, and upcoming cohorts in the ILES program have already been scheduled for the next few years.
"We're very honoured that senior officials from law enforcement and public safety colleges and agencies across China have entrusted JIBC with their future leaders," said Ken Davies, Manager of International Programs in JIBC's Office of International Affairs. "By providing a comprehensive overview of the Canadian justice system, we are contributing to the evolution of justice and public safety in China. We greatly appreciate the support and the growing level of trust we've gained over the years with our partners in China and Canada who are helping to make this possible."
About Justice Institute of British Columbia
Justice Institute of British Columbia (JIBC) is Canada's leading public safety educator with a mission to develop dynamic justice and public safety professionals through its exceptional applied education, training and research. JIBC offers internationally recognized education that leads to certificates, diplomas, bachelor's degrees and graduate certificates; exceptional continuing education for work and career-related learning and development; and customized contract training to government agencies and private organizations worldwide. Our education provides professionals with the knowledge, skills, and abilities to excel at every stage of their career contributing to safer communities and a more just society.
Last updated August 22, 2016