Chinese students in new JIBC program gain a global perspective in policing
Recruits from three Chinese police colleges complete JIBC's new International Law Enforcement Studies program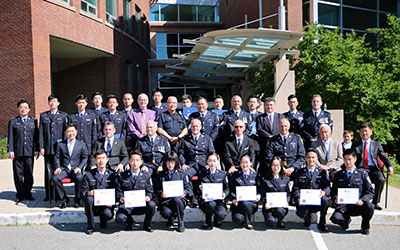 Justice Institute of British Columbia (JIBC) is leading the way in providing future Chinese law enforcement officers with an international perspective about policing.
More than 50 police recruits and instructors from three Chinese policing colleges are the latest group to complete the new four-month International Law Enforcement Studies (ILES) program at the New Westminster Campus.
Participants received an in-depth education in the latest policing practices and techniques with subjects ranging from criminal investigations, community policing, leadership and ethics, to law enforcement communications, international police co-operation and counter-terrorism.
The delegation also gained hands-on training and learned from officers of specialized units from several local municipal police departments while visiting a number of training centres and police stations in the Lower Mainland.
Wang Qinzheng, an ILES student who spoke at the recent graduation ceremony on behalf of the group from the Jiangsu Police Institute, valued the education and training they received from all the instructors in the program.
"We won't forget the sincere teaching about how to be an excellent leader," he said. "You provided us with such a wonderful opportunity to study here and expand our horizons towards the world."
Han Jingying, one of 14 members of the delegation hailing from Henan Police College, said, "After four months of study, the importance of the relationship with the public is deeply rooted in my mind. I know that we must be 100 per cent kind and patient to the public, and build a golden bridge with them, because it is our duty, our privilege, to solve problems."
Zhuang Jingyun, a student from the Nanjing Forest Police College, said, "I would like to express our gratitude for everyone's guidance and friendship. If my life is a puzzle spread out on the table, the four months here [in Canada], will be the most colour pieces."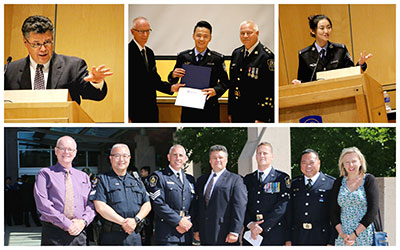 At the graduation ceremony, JIBC Acting President Peter Kingston said, "We appreciate the strong relationship we have developed with the Henan Police College, the Jiangsu Police Institute and the Nanjing Forest Police College. We are committed to supporting the advancement of public safety education in China, and look forward to a strong relationship for many years to come."
Kingston noted, "As with many of our other programs, this one was comprised of a valuable combination of knowledge-based learning and interactive, hands-on training."
The International Law Enforcement Studies program is just the latest offering from JIBC, which has built a name for itself in international public safety education and training. In 2015, more than 400 students from nine different public safety institutions completed short-term training at JIBC. After years of providing two-week educational programs to police cadets from law enforcement colleges in China, JIBC created the new ILES program in response to interest in longer-term training programs. Interest in the program has continued to grow since the first group began its studies in March. Additional cohorts of ILES students are already booked over the next few years.
Acting Chief Constable Warren Lemcke of the Vancouver Police Department (VPD) congratulated the most recent graduates and appreciated the opportunity for the VPD to support the innovative ILES program.
"It's so important that we are policing this world in a global fashion, that we're all working together, we're learning from each other. Because criminals are doing the same thing," Lemcke said.
Retired VPD detective Scott Driemel, one of the instructors in the ILES program, was impressed with each student's eagerness to learn and absorb what they were taught, a feeling shared by all the instructors in the program.
"You were willing to learn, because you wanted to achieve something. I think that's a testament to your integrity," Driemel said at the graduation ceremony. "You are now a proud member of the policing family, and I hope you are picking up the feeling that although you are from China, and we're here in British Columbia, Canada, we are part of the same team. We are in this together. You arrived as students, but you are now leaving as our friends. It has been an honour and a privilege to be part of your lives and your education."
About Justice Institute of British Columbia
Justice Institute of British Columbia (JIBC) is Canada's leading public safety educator with a mission to develop dynamic justice and public safety professionals through its exceptional applied education, training and research. JIBC offers internationally recognized education that leads to certificates, diplomas, bachelor's degrees and graduate certificates; exceptional continuing education for work and career-related learning and development; and customized contract training to government agencies and private organizations worldwide. Our education provides professionals with the knowledge, skills, and abilities to excel at every stage of their career contributing to safer communities and a more just society.
Last updated November 28, 2016