Donation helps JIBC paramedic students become better prepared for pediatric cases
G&F Financial Group supports pediatric simulation equipment to benefit children across B.C.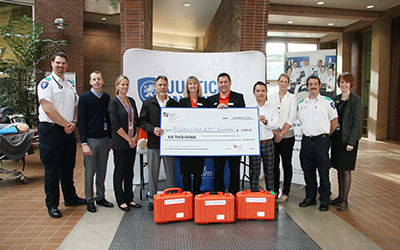 Thanks to a generous $6,000 donation by G&F Financial Group, JIBC paramedicine learners will benefit from vital neo-natal training and much needed specialized pediatric simulation equipment, ensuring children across the province have access to the best, most advanced training and equipment available.
Caring for children requires highly qualified and trained personnel since pediatric emergencies are among the most trying and stressful to encounter during paramedics' careers. Yet, paramedics' exposure to pediatric trauma and distress can be infrequent, even rare, reiterating the importance of regularly refreshing knowledge of anatomy, professional competence, and life-saving treatments.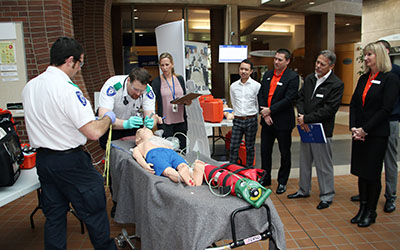 JIBC Advanced Care Paramedic students demonstrate the use of new pediatric simulation equipment to representatives of the donors, G&F Financial Group.
"Children account for only a small percentage of pre-hospital emergencies, but are a unique challenge to first responders," notes Kathy Harms, Director for JIBC's Health Sciences Division. "Due to their anatomy and physiology, children deserve special consideration. The simulation equipment funded through this donation will help students gain an understanding of the special needs of pediatric and neo-natal patients who are critically ill or injured."
"I am very much looking forward to applying this equipment to my learning," said Advanced Care Paramedic (ACP) student, Ted Harrison. "For our next generation of paramedics to provide the very best care for children, JIBC students need the very best tools. This funding does just that. This gift will make an impact that benefits communities across B.C."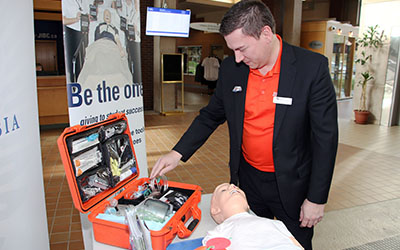 Peter Neugebauer of the G&F Financial Group Foundation checks out new pediatric simulation kits purchased with the support of the foundation.
Paramedic students recently performed a demonstration of the new pediatric kits to members of G&F Financial Group at JIBC's New Westminster campus.
"G&F Financial Group, celebrating our 75th anniversary this year, is delighted to collaborate with the Justice Institute of British Columbia," said Louise Perry, Manager at the New Westminster Branch. "This donation of $6,000 will support pediatric simulation equipment for JIBC's Paramedicine programs, helping to create brighter futures for our province's youngest and most vulnerable patients."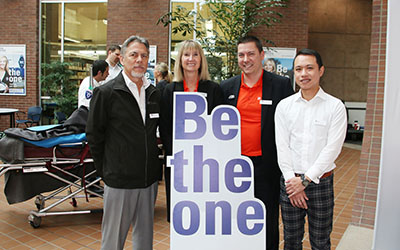 From left: Bill Nohr, Board Member of G&F Financial Group, Louise Perry, Manager of G&F's New Westminster branch, and Peter Neugebauer and Kelvin Choo of the G&F Financial Group Foundation.
"Over the past year, The JIBC Foundation has worked closely with G&F Financial Group on a variety of community initiatives, including their support of our General Bursary Campaign," says Bernie Magnan, Chair of The JIBC Foundation. "We are delighted to have G&F Financial Group as an active leader in our community and proud supporter of student success at JIBC."
About The Justice Institute of British Columbia Foundation
For more than 20 years, The Justice Institute of British Columbia Foundation (The JIBC Foundation) has inspired giving for important needs that enhance education, training, student learning and applied research at JIBC. These needs most often include student awards and bursaries, new equipment and technology, and other tools related to student success. As the recipient and steward of charitable gifts, The JIBC Foundation is building meaningful relationships with communities to support Canada's leading public safety educator.
Last updated May 2, 2017