Faculty and staff excellence celebrated by JIBC
Annual JIBC Awards of Excellence presented at New Westminster campus
Service and teaching excellence at the Justice Institute of British Columbia (JIBC) were celebrated at the 16th annual JIBC Awards of Excellence ceremony held at its New Westminster campus today.
The event, which was webcast live to JIBC staff at its satellite campuses, saw awards being presented by JIBC President and CEO Dr. Michel Tarko as well as Colleen Vaughan, Interim Vice-President, and Peter Kingston, Vice-President, Finance and Administration.
"Each year, it gives me great pleasure to recognize the outstanding dedication and commitment reflected in each of our award recipients," said President Tarko. "In many ways, they represent the efforts of staff and faculty across the Institute contributing to our students' success keeping communities safe throughout BC, across Canada, and internationally."
Award recipients were honoured in the following categories:
President's Award
Caroline White, Program Director of the Centre for Counselling and Community Safety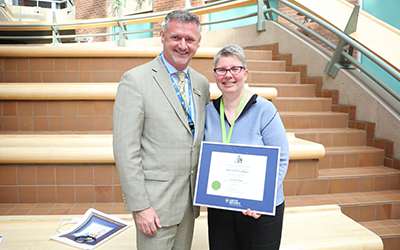 Caroline White joined JIBC in 2005, bringing with her an extensive and impressive background in community service and social justice. In addition to her role as Program Director for the Centre for Counselling and Community Safety, she has been involved as committee chair for Program Council, as a member of the Applied Research Committee, Research Ethics Board and the Psychological Health & Safety Standard Work Group. She has significantly contributed towards the attainment of JIBC's vision for "safer communities and a more just society."
Caroline and her team work closely with the Centre for Teaching, Learning & Innovation to provide innovative solutions that support greater online access for students while maintaining an experiential, student-focused experience. She works across JIBC to support colleagues to integrate appropriate curriculum into their programming in the areas of violence, mental health and complex trauma.
Caroline has worked hard to ensure inclusivity at JIBC in the development of policy, curriculum, pedagogy and service delivery. She works collaboratively to address social and health inequities and promotes social justice in general.
Service Excellence Award
John Trimble, Systems Administrator, Technology Services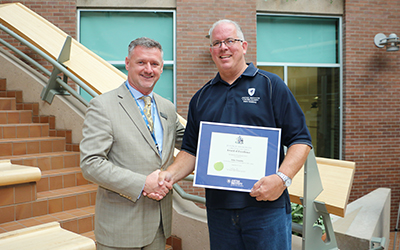 John Trimble consistently demonstrates the qualities that the Service Excellence Award recognizes – reliability, dependability and dedication. As a Systems Administrator in Technology Services, he promptly responds to requests for assistance, such as during implementation of new systems, even when away from the office. When he can't find existing solutions to issues, he creates them himself. As evidence of the significant impact John has had across JIBC, he was the subject of two separate and distinct nominations from different parts of the organization, the first time this has happened since the Awards of Excellence were established.
Instructional Excellence Award
Georganne Oldham, faculty member, Centre for Leadership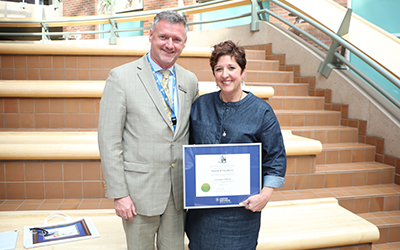 Georganne Oldham has been a faculty member at JIBC's Centre for Leadership for over 10 years. She is an accomplished group facilitator bringing more than 20 years of organization and leadership development coaching and consulting experience to the classroom. She is particularly skilled in helping groups and individuals grapple with the complex issues that come with organizational change, and in assessing the needs of organizations that come to JIBC for leadership development training. She has played an integral part in redesigning the Centre's curriculum.
Georganne's calm, competent manner, and deep commitment to the teaching and learning process, leaves students and clients wanting more. She challenges students in a safe and supportive environment to move beyond acquiring "tools for their toolbox" and into a space of embracing personal change.
Excellence in Applied Research Award
JIBC Student Research Skills Framework project team – Florence Daddey, April Haddad, Greg Metcalf, Tannis Morgan, Sarah Wareing and Nathan Wright – led by Greg Anderson, Stuart Ruttan and Ron Bowles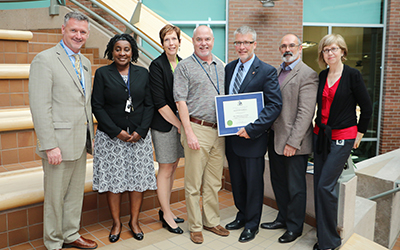 The JIBC Student Research Skills Framework was developed to guide and promote the development of research skills of JIBC students. The project team represented all three Schools, the Office of Applied Research and Graduate Studies and the Library.
In essence, the framework uses an inquiry-based learning model which makes it possible for students to learn research methods while examining topics or issues that are of interest to them. JIBC instructors are therefore able to identify suitable research activities for their students regardless of their academic level.
Through the team's efforts, rather than being passive learners, students find themselves in the research "driver's seat", learning the skills to answer questions that directly impact their workplace, their community, and their own lives.
Program of Excellence Award
Bachelor of Emergency and Security Management Studies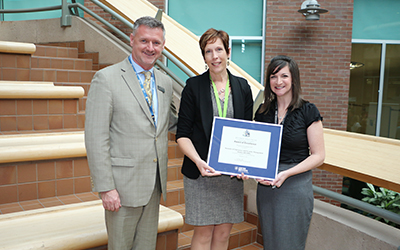 The Bachelor of Emergency and Security Management Studies (BESMS) is a unique, facilitated online program which provides students with the theory and methodologies of safety, security, and emergency management as they apply to business and community environments.
This program receives no FTE funding from AVED or from any other source as it operates entirely on a cost recovery basis. Steady growth in student enrollments has occurred every year since its implementation 6 years ago, with students indicating that the course topics and the accessible delivery model attracted them to the program.
BESMS has been a silent gem of the JIBC, slowly gathering students and steam, to become a solid bachelor degree program that JIBC can truly be proud of. This program embodies all that JIBC strives for with its education and training activities - relevant, meaningful and engaging programming that supports public safety and aligns with our students' career aspirations.
Service Awards
In addition to the Awards of Excellence, longstanding service was also recognized. A total of 32 employees received service pins for 5, 10 and 15 years of service. Three employees reached the 20-year mark, and four have completed 25 years of service. One employee, Anita Miles from the Health Sciences Division, was celebrated for reaching her 30th anniversary with JIBC.
About Justice Institute of British Columbia
Justice Institute of British Columbia (JIBC) is Canada's leading public safety educator with a mission to develop dynamic justice and public safety professionals through its exceptional applied education, training and research. JIBC offers internationally recognized education that leads to certificates, diplomas, bachelor's degrees and graduate certificates; exceptional continuing education for work and career-related learning and development; and customized contract training to government agencies and private organizations worldwide. Our education provides professionals with the knowledge, skills, and abilities to excel at every stage of their career contributing to safer communities and a more just society.
Last updated November 1, 2016