First day of classes begin for students in new Bachelor of Law Enforcement Studies program
New degree provides prospective recruits with the skills needed for today's law enforcement professionals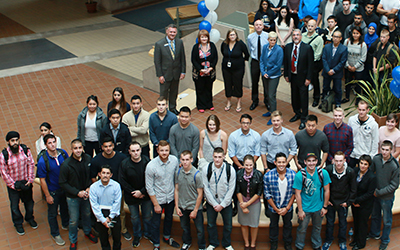 Students in the first cohort of the Bachelor of Law Enforcement Studies program began their studies September 2
Today, Justice Institute of British Columbia (JIBC) welcomed the first cohort of students in its new Bachelor of Law Enforcement Studies (BLES) program.
A unique program in Canada, the BLES program was developed to address the growing complexity of law enforcement and provide the latest knowledge, skills and competencies to enable students to become sought-after candidates in the highly competitive recruitment process.
"It's a great pleasure to welcome the students in the first class of the Bachelor of Law Enforcement Studies program," said Dr. Michel Tarko, President and CEO of JIBC. "I'm very encouraged by the interest in the new degree and the calibre of the students entering the program."
Mike Trump, JIBC Dean of the School of Criminal Justice and Security added, "Students completing the BLES program are embarking on an incredible journey. It will serve them well as they pursue a meaningful and challenging career in law enforcement."
The BLES program expands upon JIBC's two-year Law Enforcement Studies Diploma (LESD) by providing students with the opportunity to deepen their theoretical knowledge and applied understanding of criminal justice and law enforcement.
LESD graduates, and students from other post-secondary institutions with criminal justice or criminology diplomas, can continue their education in the third year of the BLES program where they develop their leadership, critical thinking and ethical decision-making skills. They also gain a background in business, human resources, research and labour law.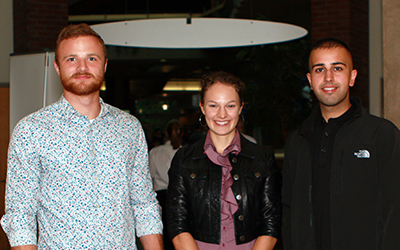 Derek Hohmann (left), Robyn Walden, and Ramandeep Randhawa are among the students in the first cohort of the BLES program
Students looking forward to their studies
Nineteen-year-old Derek Hohmann, who hails from B.C.'s Okanagan region, is one of the students in Cohort 1 of the BLES program.
"I've seen my schedule for this semester and it sounds like a blast. I can't wait to see what we have in store."
A recent LESD graduate, Hohmann became interested in a career in law enforcement after meeting and becoming good acquaintances with an RCMP officer who helped him in high school.
"Just the way he helped me through that stage in my life, it seemed like being a police officer would be a very rewarding experience. Since then, I can't see myself doing anything else, really."
Robyn Walden, 21, from North Vancouver, is looking forward to continuing her studies after graduating from the LESD program in June. Having gained an interest in pursuing a law enforcement career after completing the RCMP Youth Academy in 2011, she is looking forward to the opportunity to gain additional skills and experience at JIBC.
"I like coming here and I'm looking forward to coming to school this year. The instructors have so much knowledge and it's applied. The courses in the BLES program sound interesting and are things I want to learn about."
For Ramandeep Randhawa, 21, completing the BLES program is also an important step to pursing a rewarding career of service as a police officer.
"I know life experience is one of the biggest things they look for, but education is also important and having the critical thinking skills to perform your duties as a police officer. I want to make myself stand out, so that's one of the reasons why I want to complete the degree."
Also a graduate of the LESD program, Ramandeep's life has changed dramatically, because of his studies at JIBC.
"I started the LESD program in September 2012, and at that time, I was around 325 pounds, so extremely overweight. I remember sitting in class, and it's time to run the Police Officer Physical Abilities Test, but it was very difficult for me to run. So, throughout the duration of the program, I was able to lose 125 pounds with the support of my instructors and fellow students.
"If it wasn't for the LESD program, and the instructors and mentors in the program, I would probably not have been able to consider a police career. So, the program seriously changed my life for the better, and I can't wait to see what the BLES program has in store for me."
About Justice Institute of British Columbia
Justice Institute of British Columbia (JIBC) is Canada's leading public safety educator. Our specialized programs lead to certificates, diplomas, bachelor's degrees and graduate certificates in Policing, Investigations, Emergency Management, Firefighting, Paramedicine, Sheriffs, Corrections, Counselling, Leadership, Mediation, Conflict Resolution, and Driver Training. JIBC also provides customized contract training to domestic and international governments, agencies and organizations. Our approach to education emphasizes applied learning and realistic simulations, delivered by instructors who are experienced practitioners. Our students' work makes communities safer, and helps people in need, throughout B.C., across Canada and around the world.
Last updated November 18, 2014