First Nations firefighters in Quebec graduate from JIBC firefighting programs
Joint program with Kahnawake Fire Brigade, funded by Indigenous and Northern Affairs Canada, supports public safety needs in northern Quebec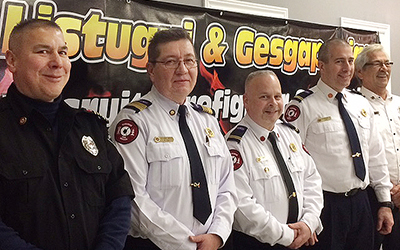 Listuguj Fire Chief Garry Caplin, far left, and Gesgapegiag Fire Chief Michael Jerome, far right, flank three instructors from the Kahnawake Fire Brigade at the graduation ceremony in Listuguj, Quebec for 16 new graduates of JIBC's Fire Fighter I program.
The Justice Institute of British Columbia's (JIBC) latest firefighter graduates hail from First Nations in northern Quebec and will now have the needed skills to respond to emergencies in their communities.
"It is my great privilege to welcome these 16 firefighters as new graduates of JIBC," said Peter Grootendorst, Director of JIBC's Fire & Safety Division (FSD). "The training program, in partnership with the Kahnawake Fire Brigade, is a prime example of the value of community-based training we're providing in First Nations communities in BC and across the country."
The program, funded by Indigenous and Northern Affairs Canada (INAC), began in July 2016 with FSD training members of the Kahnawake Fire Brigade in Kahnawake, Que. to be instructors and evaluators for JIBC by completing the JIBC Fire Service Instructor Level I course. They also took JIBC's new Evaluator Workshop course and are now qualified to evaluate accredited Fire Fighter I skills and knowledge requirements.
The Kahnawake instructors and evaluators then travelled to northern Quebec to train students from the Mi'gmaq First Nation, representing the Listuguj and Gesgapegiag fire departments, to the NPFA 1001 Fire Fighter I standard.
The 16 students started the program on Aug. 22, working on a boot camp model – training eight hours a day, five days a week, for two weeks each month. They completed the program on Dec. 9 with the graduation ceremony held in Listuguj, Que. on Dec. 16.
Grootendorst travelled to Listuguj for the graduation ceremony along with Richard White, Coordinator in JIBC's Fire & Safety Division. Philippe Côté, representing Indigenous and Northern Affairs Canada (INAC), gave the closing remarks.
The students graduated with certificates for Fire Fighter I, Hazardous Materials Awareness, Hazmat Operations and First Responders. These new qualified members will now be able to support other members in their home communities' fire departments.
INAC provided the funding for the training project. The department recognized a need for First Nations groups to provide emergency protection in their own communities. At the same time, it recognized the challenges for First Nations first responders to acquire accredited, recognized and reliable training.
Partnerships key to student success
The Kahnawake Fire Brigade recognized JIBC as an institution that could meet its needs and successfully applied to INAC for funding of the project using the joint-delivery model and the JIBC curriculum.
The Campbellton Fire Department, in a neighbouring community, supported the training program by lending out their resources, while the Nova Scotia Fire Commission's mobile fire trailer (similar to JIBC's new mobile live-fire trailer) was used by the Kahnawake instructors to train and evaluate the students in live fire scenarios.
About Justice Institute of British Columbia
Justice Institute of British Columbia (JIBC) is Canada's leading public safety educator with a mission to develop dynamic justice and public safety professionals through its exceptional applied education, training and research. JIBC offers internationally recognized education that leads to certificates, diplomas, bachelor's degrees and graduate certificates; exceptional continuing education for work and career-related learning and development; and customized contract training to government agencies and private organizations worldwide. Our education provides professionals with the knowledge, skills, and abilities to excel at every stage of their career contributing to safer communities and a more just society.
Last updated March 3, 2017