Four Students. One World.
JIBC Fire & Safety graduates contribute to El Salvador's fire service
Four graduates of JIBC's Career Fire Fighter Pre-Employment Certificate Program left the Lower Mainland on February 3, 2013 to begin the adventure of a lifetime; combining their passion for firefighting with an opportunity to travel to El Salvador with BC fire fighters through First Responders International Training Academy (FRITA), and assist with efforts to deliver much needed equipment and training to emergency services personnel.
The graduates' participation is made possible through the One World International Scholarship, funded by the Irving K. Barber Scholarship Society and the JIBC Foundation. This is the fourth consecutive year that the scholarship has provided the opportunity for graduates to travel with FRITA on its annual three-week trip to Central America.
"The One World program and our partnership with First Responders International Training Academy provides a unique opportunity for JIBC graduates to share their learning and experience with fellow firefighters who work in circumstances that are generally far more challenging than at home, here in Canada," says Charlene Jordan-Jones, Acting Director of JIBC's Fire & Safety Division. "The experience helps to reinforce their learning and provides a unique insight into how the fundamental principles of firefighting can be effectively applied in less than optimal circumstances."
Three of the four 2012 scholarship recipients, William Heng, Elizabeth Johnston and Kai Jones, met for a final briefing at the JIBC New Westminster campus before leaving for El Salvador, and shared their perspectives on the trip. The fourth recipient, Trent Frenkel, was wrapping up a work assignment in Alberta.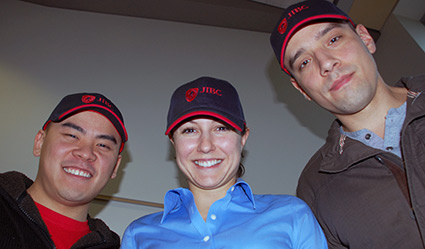 L to R - William Heng, Elizabeth Johnston and Kai Jones
William, who was originally pursuing a career in the movie industry, was so inspired by the story of students who had participated in an earlier deployment to El Salvador that he decided to investigate the certificate program. He registered, completed the program, and then successfully applied to travel to El Salvador himself. When asked about what he was looking forward to on the trip, he declared, "I look forward to teaching. It's what I want to do as a career." The experience in El Salvador will be another significant step towards fulfilling his aspirations.
Once the students arrive in El Salvador, they will spend their first few days in intensive language training and cultural orientation. The remainder of the trip will be spent travelling with volunteers from FRITA, visiting fire stations across the country, training local firefighters at each station in hose handling, ladders, and self-contained breathing apparatus care and use. The students have also been equipped with stethoscopes and will perform blood pressure checks for personnel at each station they visit.
"Applying for this scholarship opportunity was a no brainer," according to Kai. His previous travel experiences in South America created a great affinity for the region and its people, and being immersed in another culture will be a treasured experience. "I'm looking forward to interacting with fire fighters from El Salvador and developing relationships [with them]."
For Elizabeth, the trip will be her first to Latin America and she looks forward to experiencing some of the cultural differences and learning from working both Salvadoran and the Canadian firefighters volunteering with FRITA. "It's a fantastic opportunity to advance my career and take the initial steps to becoming a more experienced, fully-trained fire fighter."
During the trip, the students will document their experience - through postings, photos, and videos - in a blog. After they return from El Salvador, the students will deliver a final presentation on their field experience to their peers, instructors, members of FRITA, and JIBC staff.
Read about a previous JIBC graduate's experience in El Salvador.
Last updated April 4, 2017