Future justice and public safety leaders celebrated at 2017 JIBC Spring Convocation
Highlights accomplishments of approximately 270 graduating students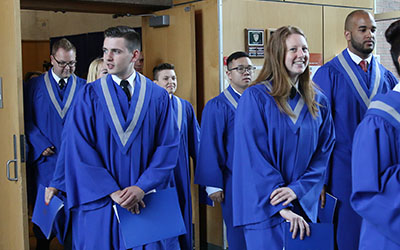 The academic achievements of approximately 270 graduates and honorary degree recipient Bill Fordy were recognized by Justice Institute of British Columbia (JIBC) at its Spring Convocation held at the New Westminster campus on June 8, 2017.
"Convocation is a milestone that honours all the time and energy you have dedicated to develop the knowledge, skills and competencies you need for rewarding careers in justice and public safety," said Dr. Michel Tarko, JIBC President and CEO, in his address to graduates.
He noted that JIBC graduates serve in a wide range of professions and fields, from law enforcement, firefighting and paramedicine, to correctional officers, emergency managers, counsellors and intelligence analysts.
"The general public may not be aware of the incredible work that these professionals do each day, but the significance of what they do – of what you do - is nevertheless great," Dr. Tarko said. "I want to encourage you to serve in your respective roles with conviction, knowing that what you do makes a difference – to the individuals you will help and the communities you will support."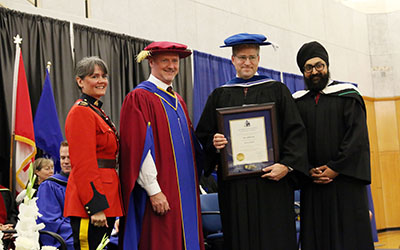 Assistant Commissioner Bill Fordy, a 28-year veteran of the Royal Canadian Mounted Police (RCMP), was conferred an honorary degree in recognition of his extensive community service, commitment to public service, leadership and contributions to justice and public safety in Canada.
"I am honoured and humbled to stand amongst you today as you embark upon your life and leadership journey," Fordy told the graduates.
He reminded them, "A team is better than any one police officer. Never forget that you are not alone on this journey."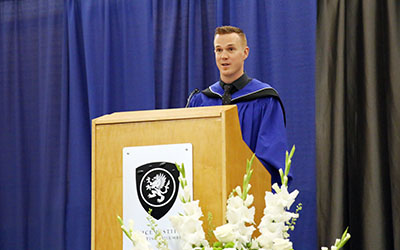 Andrew Borsato, a firefighter and graduate of the Bachelor's in Public Safety Administration, spoke at convocation on behalf of all the graduating students. He described how his JIBC studies helped him progress in his career with his two employers, Kootenay Boundary Regional Fire Rescue and Teck Metals Ltd.
"Being a student of JIBC has allowed my career to flourish," Borsato said. "As I worked my way up through the ranks in both of these organizations, there were many things that changed such as the scope of each position, the personnel, technology and equipment. However, there were two things that ceased to change; my drive for continuing education, and JIBC's ability to deliver.
"I have honestly never been more proud to be part of a school. When I put on that JIBC hat or t-shirt, I am truly representing a school that places learning at the forefront of everything they do; instructors that are knowledgeable and passionate about their respective fields; and students that will put others before themselves."
About Justice Institute of British Columbia
Justice Institute of British Columbia (JIBC) is Canada's leading public safety educator with a mission to develop dynamic justice and public safety professionals through its exceptional applied education, training and research. JIBC offers internationally recognized education that leads to certificates, diplomas, bachelor's degrees and graduate certificates; exceptional continuing education for work and career-related learning and development; and customized contract training to government agencies and private organizations worldwide. Our education provides professionals with the knowledge, skills, and abilities to excel at every stage of their career contributing to safer communities and a more just society.
Last updated August 28, 2018