New award aims to help paramedic students realize their professional goals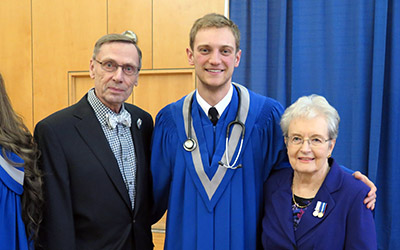 JIBC donors Beverley and John Carl meet Matt Brown (centre), Primary Care Paramedic Certificate Program graduate and the first recipient of the Beverley and John Carl Award
Beverley and John Carl are eternally grateful to the paramedics that helped save Beverley's life three years ago.
Shortly after they started one of their 6 a.m. shifts as YVR Green Coat Ambassadors in the Domestic Terminal at Vancouver International Airport, Beverley suffered a heart attack after helping a woman and her mother safely locate their boarding gate.
"I had ran to help show her where a ramp was for her mother, who was in a wheelchair, and as I came back to the desk, I started having a hard time breathing."
John called 911 and within minutes the Paramedic Bike Squad at the airport arrived to help stabilize her condition. She was quickly transported to Vancouver General Hospital by the BC Ambulance Service and by 9:30 a.m. she was receiving the urgent cardiac surgery she needed.
"The quick response and competent actions of the paramedics certainly saved my life," said Beverley. "We are just so appreciative of the wonderful care that we received."
After her recovery, both Beverley and John wanted to show their appreciation to the paramedic community. The couple decided that an annual award for a deserving student enrolled in JIBC's Primary Care Paramedic (PCP) Program was the right option for them.
"It's a way for us to give back to the health care system that was there for us in our time of need," said John regarding the creation of the Beverley and John Carl Award. "We feel it's such a worthwhile thing for young people to be involved in health care. We just want to support that, to provide a little bit of help so they can achieve their goal."
Since establishing the award in 2013, the Carls have had the opportunity to meet students and observe the experiential education, training and research conducted at JIBC. One of the highlights has been the opportunity to meet the first recipient of the Beverley and John Carl Award: Matt Brown.
Realizing a passion to help those in need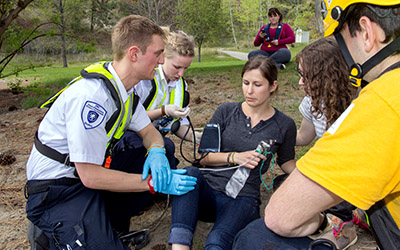 Matt Brown (left) participates in an experiential training simulation with fellow PCP students and other public safety agency partners in Kelowna (Photo by Ronald Mullins)
Matt's desire to make a difference in people's lives as a health care professional has only grown after graduating from the PCP Certificate Program at JIBC's 2015 Winter Convocation.
"I have always admired the people who were paramedics, and honestly, it was something I always wanted to do," said Brown. "The job offers an incredible opportunity to reassure people and to be the face of compassion and caring on perhaps the worst day of someone's life."
He experienced that on the very first call he ever attended with a paramedic in Kelowna while still completing his five months of intense in-class study and experiential training at JIBC's Okanagan Campus.
"It was exactly 7 a.m. that the call came in. And it was a call about a cardiac arrest in a recently constructed apartment building. It was a warm, sunny day in February, and the sun was just peaking over the hills as we were driving to the building," Brown recalls. "On the ride up the elevator, I remember thinking, 'Oh, boy. What have I gotten myself into…here we go.' And then we were thrust into the situation where you are looked to as the person who can bring order, reassurance, even healing.
"Initially, it was quite overwhelming, but I felt an immense honour to have been there and be part of the team entrusted with the care of a family's loved one, and looked to as someone that could possibly make them better. We attended to five more calls that day, dealing with everything from an attempted suicide to someone injuring themselves falling down stairs. The whole experience made me realize how special the job of a paramedic is, and it reaffirmed my decision to become one."
The PCP Certificate Program is an intense eight months that includes five months of academic study and experiential learning and three months of practice education in the field. It is the only program in B.C. certified by the Canadian Medical Association.
"It's really hard to describe the intensity until you've experienced it for yourself. Our instructors compared it to medical school just because there is so much information to take in at night. And you had to know it in detail by the next morning," recalls Brown. "But once you get into rhythm and commit to it, it's an amazing program.
"There is so much depth and they do a really great job of teaching. The instructors are the best I've encountered, even compared to those I've had in university. My PCP instructors had the nice mix of real-world experience and book smarts, so the program just set me up for success."
A heartfelt meeting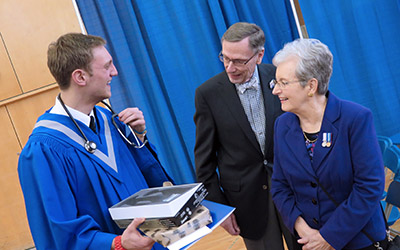 Beverley and John Carl meet Matt Brown at JIBC's 2015 Winter Convocation held at the New Westminster Campus
The 2015 Winter Convocation had special meaning for both the Carls and Matt as it was the opportunity for both award donor and recipient to meet face-to-face for the very first time.
While the Carls and Matt had corresponded via email for several months, "we were so looking forward to meeting Matt," said Beverley, who had spent many years as a career counsellor in the Richmond School District. "I really wanted to be involved. I really wanted to have the opportunity to say to him, in person, 'Congratulations; well done.'"
What has made the establishment of the student award so rewarding for the Carls is the knowledge of its potential to have a lasting, profound impact on students.
"Matt said to me, which made it all worthwhile, 'By receiving your award, you've validated what I want to do.' We set the criteria for the award, and he met the criteria, but now he also feels he's made the right choice. That's the kind of thing we are hoping to reinforce. That means so much to me, to see the value of the award is more than just financial."
The deadline for PCP students to apply for the Beverley and John Carl Award is June 30. For more information, visit the award's webpage.
About Justice Institute of British Columbia
Justice Institute of British Columbia (JIBC) is Canada's leading public safety educator. Our specialized programs lead to certificates, diplomas, bachelor's degrees and graduate certificates in Law Enforcement, Investigations, Emergency Management, Firefighting, Paramedicine, Sheriffs, Corrections, Counselling, Leadership, Mediation, Conflict Resolution, and Driver Training. JIBC also provides customized contract training to domestic and international governments, agencies and organizations. Our approach to education emphasizes applied learning and realistic simulations, delivered by instructors who are experienced practitioners. Our students' work makes communities safer, and helps people in need, throughout B.C., across Canada and around the world.
About The JIBC Foundation
Since 1993, The JIBC Foundation has supported the Justice Institute of British Columbia (JIBC) by raising funds for student scholarships and bursaries, applied research, equipment and other tools for learning. By inspiring giving through various fundraising initiatives, the Foundation ensures that JIBC continues to maintain its worldwide reputation for excellence and innovation as Canada's leading public safety educator.
Last updated April 24, 2018