Give student success a running start
Support Team JIBC in the Scotiabank Vancouver Half-Marathon & 5k Charity Challenge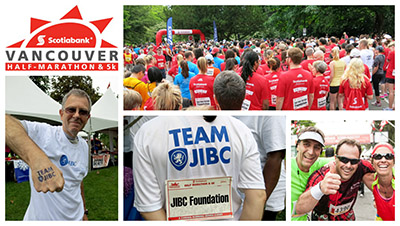 The Justice Institute of British Columbia Foundation (The JIBC Foundation) is participating in one of British Columbia's largest charitable events: the Scotiabank Half-Marathon & 5K Charity Challenge. The popular event is taking place Sunday, June 26, 2016 in Vancouver.
This year marks the 18th year of the Scotiabank Vancouver Half-Marathon & 5K Charity Challenge, which has raised more than $4.8 million dollars for over 120 local charities. As a participating charity in 2016, The JIBC Foundation is excited about making every step count! That's why it will be fundraising for important priorities like scholarships, bursaries and new equipment that supports student success at the Justice Institute of British Columbia, Canada's leading public safety educator.
Team JIBC is on its way to representing a good cross-section of the Institute. Participants include staff, students, volunteers and friends of JIBC. Each participant will be seeking support to help Team JIBC reach its fundraising goal of $10,000.
"Donors give JIBC students a running start as they pursue an education towards careers that contribute to safer communities throughout B.C. and across Canada," said Bernie Magnan, Chair of The JIBC Foundation. "The JIBC Foundation is proud of our role to inspire giving for important needs that enhance education, student learning, training and applied research at JIBC. Donations make a significant difference in helping to alleviate the financial stresses for more than 300 JIBC students each year. We thank all our event participants and their supporters for their commitment and generosity in giving to student success."
Ben McKiernan, a JIBC Law Enforcement Studies Diploma (LESD) graduate who is continuing his education in the Bachelor of Law Enforcement Studies, was able to complete his program with donor support and is giving back by participating on Team JIBC this year.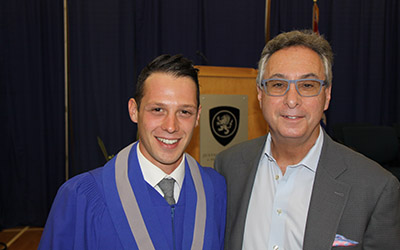 LESD graduate Ben McKiernan, a recipient of the Gary and Nanci Segal Award, was congratulated by the award's donor, Gary Segal, at the June 2015 Spring Convocation
"As an award recipient, I've experienced how donations contribute to student success. As part of the JIBC learning experience, giving back is part of the community DNA, and is engrained in our hearts and minds as students. I'm proud to be participating in the run this year, and with the help of donors, bring students' dreams that much closer within reach. The money we raise means that JIBC students can continue to receive a world-class education in justice and public safety."
Michelle Bowyer, an instructor with JIBC's Community and Court Services Division, has offered her support by joining Team JIBC for the third time. "This is a fabulous fundraising event and a great opportunity to spend time with other JIBC staff, students and friends, all for a great cause. Through our donations, we can help students at a critical time in their development. I'm ready to 'Be the One' and hit the ground running in support of Team JIBC."
The JIBC Foundation hopes they can count on your support through participation or by donating to Team JIBC. For more information about the Charity Challenge, contact JIBC Development Officer, Christopher Duffin, at 604-528-5877 or cduffin@jibc.ca.
You can also show your support by visiting Team JIBC's Charity Challenge webpage to donate to the team!
Be the One! Help us, help JIBC students.
About The Justice Institute of British Columbia Foundation
Since 1993, The Justice Institute of British Columbia Foundation (The JIBC Foundation) has worked on behalf of JIBC to raise funds for scholarships and bursaries, applied research, equipment and other tools that impact student success. The Foundation is the recipient and steward of charitable donations and builds meaningful relationships with communities to support Canada's leading public safety educator.
Last updated June 21, 2016