Government of Canada supports innovative safety training technology developed by JIBC
Praxis to be piloted and commercialized with support from Western Economic Diversification Canada, The JIBC Foundation and industry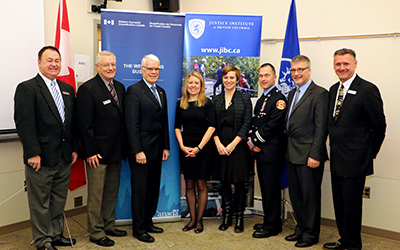 Rick Page, Vice-Chair of The JIBC Foundation with Jim McGregor, JIBC Board of Governors Vice-Chair; JIBC Foundation Chair Bernard Magnan; the Honourable Michelle Rempel, Minister of State for Western Economic Diversification; Dr. Tannis Morgan, Associate Dean, JIBC Centre for Teaching, Learning and Innovation; JIBC Foundation Board Member Brian Hutchinson; Dr. Greg Anderson, Dean of JIBC's Office of Applied Research and Graduate Studies; JIBC President and CEO Dr. Michel Tarko at the funding announcement for the commercialization of JIBC's Praxis technology
Commercialization of the Justice Institute of British Columbia's (JIBC) award-winning training simulation technology is moving forward with support from the federal government, industry and public safety stakeholders.
At the Dr. Donald B. Rix Public Safety Simulation Building at the New Westminster Campus, the Honorable Michelle Rempel, Minister of State for Western Economic Diversification, announced $300,000 in funding to support piloting and commercializing Praxis, a web-based training simulation tool used in critical incident safety training at JIBC.
Additional funding from The JIBC Foundation and industry partners Enbridge and Kinder Morgan Canada, for total funding of $600,000, will be used to develop and implement a business plan to realize the commercial potential of Praxis.
Praxis will be piloted in the mining and oil & gas industries, which are subject to regulated safety training. Because these industries are typically located in isolated locations, training delivery can be costly and time-consuming. The web-based nature of Praxis will allow for safety training to be delivered online and in remote locations.
By delivering training that is more cost-effective and accessible, the industry users of Praxis will benefit from increased productivity. These interactive simulations are a key component of effective training to keep workers and communities safe – improving industry safety programs, risk management, business continuity, and emergency management initiatives.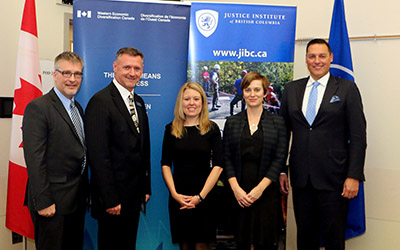 Dr. Greg Anderson, Dean of JIBC's Office of Applied Research and Graduate Studies; Dr. Michel Tarko, JIBC President and CEO; the Honourable Michelle Rempel, Minister of State for Western Economic Diversification; Dr. Tannis Morgan, Associate Dean, JIBC Centre for Teaching, Learning and Innovation; Rich Adams, Senior Vice-President, Enterprise Safety and Operational Reliability, Enbridge at the funding announcement for the commercialization of JIBC's Praxis technology
At the funding announcement, Minister Rempel said, "All employees should be able to work in a safe environment. By improving access to safety training, we are helping to keep workers and communities safe, and increase industry competitiveness and productivity."
Dr. Michel Tarko, JIBC President and CEO, said, "Today's funding announcement for our Praxis simulation technology supports the type of innovation we are pursuing to provide effective, cost-efficient education and training that supports safe, healthy and prosperous communities – not only in B.C. but across the country. We appreciate the support of Western Economic Diversification Canada and all our partners in this important initiative."
Rich Adams, Senior Vice President, Enterprise Safety and Operational Reliability at Enbridge, said "We see the real-time realism provided by the Praxis simulation tool as an exciting new opportunity to enhance the safety and incident response capacity of Enbridge and the industry as a whole and we look forward to working with the JIBC as we put Praxis into practice."
Bernard Magnan, Chair of The JIBC Foundation, said, "Praxis has contributed to the education and training of JIBC students in a variety of fields. The JIBC Foundation believes the time is right to share this unique training tool with industry, so we fully support this project to realize the full potential of Praxis."
About Praxis
Praxis is a web-based, interactive and immersive simulation training tool developed to help participants develop critical thinking and decision-making skills in emergency situations by giving them the opportunity to experience the consequences of their decisions in a safe learning environment. It was recognized with the Award of Excellence by the Canadian Network for Innovation in Education in 2012.
About Justice Institute of British Columbia
Justice Institute of British Columbia (JIBC) is Canada's leading public safety educator. Our specialized programs lead to certificates, diplomas, bachelor's degrees and graduate certificates in Law Enforcement, Investigations, Emergency Management, Firefighting, Paramedicine, Sheriffs, Corrections, Counselling, Leadership, Mediation, Conflict Resolution, and Driver Training. JIBC also provides customized contract training to domestic and international governments, agencies and organizations. Our approach to education emphasizes applied learning and realistic simulations, delivered by instructors who are experienced practitioners. Our students' work makes communities safer, and helps people in need, throughout B.C., across Canada and around the world.
Last updated May 4, 2015