Government funding supports expansion of Advanced Care Paramedic training
More Advanced Care Paramedics will be trained in Victoria and Kelowna
Advanced Education Minister Amrik Virk announced today that Justice Institute of British Columbia (JIBC) will receive additional funding to expand regional access to Advanced Care Paramedic (ACP) training in B.C.
The total number of Advanced Care Paramedics trained at JIBC will rise to 56 from 40 as a result of an additional $144,000 in annual base operating funds from the Ministry of Advanced Education. This funding contributes to eight more ACP student spaces annually at each of JIBC's Victoria and Kelowna campuses.
The Ministry is also providing an additional $67,000 in one-time funding for new equipment to facilitate this expanded regional delivery, bringing the total funding increase to $211,000 for the 2014-2015 fiscal year.
"Paramedics are often first on the scene when there's a medical emergency," said Virk. "We're addressing labour market demand for paramedic programs to ensure British Columbians get the best emergency medical services possible. Our funding means better training equipment and 16 more student spaces for Advanced Care Paramedics at the Justice Institute of B.C. in Victoria and Kelowna."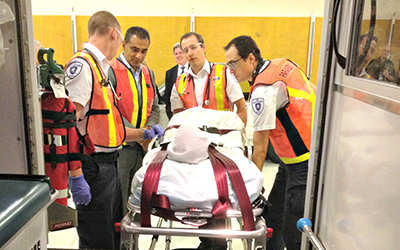 Advanced Education Minister Amrik Virk with JIBC paramedic students
"This additional funding is very much appreciated," said JIBC President and CEO Dr. Michel Tarko. "As our province's health care needs evolve, demand for Advanced Care Paramedics continues to grow. This funding helps us fulfill our mandate of delivering public safety programs throughout the province."
Advanced Care Paramedics perform an important role in public health and safety in B.C. by using their education in advanced clinical assessment and intervention to save lives in critical health emergencies.
The Paramedic Academy at JIBC is the most prominent provider of paramedic training in B.C., offering the full range of courses and programs for First Responder Providers, Emergency Medical Responders (EMRs), Primary Care Paramedics (PCPs), and Advanced Care Paramedics in the province.
About Justice Institute of British Columbia
Justice Institute of British Columbia is Canada's leading public safety educator. Our specialized programs lead to certificates, diplomas, bachelor's degrees and graduate certificates in Policing, Investigations, Emergency Management, Firefighting, Paramedicine, Sheriffs, Corrections, Counselling, Leadership, Mediation, Conflict Resolution, and Driver Training. JIBC also provides customized contract training to domestic and international governments, agencies and organizations. Our approach to education emphasizes applied learning and realistic simulations, delivered by instructors who are experienced practitioners. Close to 30,000 students study at JIBC annually. Their work makes communities safer, and helps people in need, throughout B.C., across Canada and around the world.
Last updated July 4, 2014