The Honourable Steven Point: Fostering mutual understanding, respect, and breaking down barriers
2012 JIBC Foundation Joseph H. Cohen Award Recipient to be honoured December 3
When The Honourable Steven L. Point, OBC, LLD (Hon.), ended his tenure as the 28th Lieutenant Governor of the province of British Columbia - the first Aboriginal to hold the position - he left an enduring legacy.
A cedar canoe he carved in the garage, and a totem he left behind in the garden at Government House, remind us of his aboriginal roots, but are also symbolic reminders of the need for reconciliation, mutual understanding and respect and breaking down barriers—all of which he accomplished during his term.
Point received a Bachelor of Law degree from the University of British Columbia in 1985 and was called to the Bar in British Columbia in 1986. He was appointed a provincial court judge in February 1999.
Prior to his appointment as Lieutenant Governor in October 2007, Point had served as an elected Chief of the Skowkale First Nation for 15 years, tribal chair of the Stó:lō Nation Government, was honoured as Grand Chief by the Chiefs of the Stó:lō Tribal Council, and was appointed as the Chief Commissioner of the British Columbia Treaty Commission.
He assumed the role of Lieutenant Governor with some reservation, unsure about its travel demands and the time he would have to spend away from his family. However, he was overwhelmed by the response his appointment generated within the Aboriginal community. It was an uplifting moment that filled Aboriginal communities both in BC and across Canada with great pride.
For Point, their response brought into focus the great opportunity and responsibility that lay ahead. He rose to the challenge by fulfilling the role with the same consummate professionalism, passion and unequivocal humility that he had demonstrated throughout his working life, which included a volunteer role on the Justice Institute of British Columbia (JIBC) Aboriginal Education Advisory Council.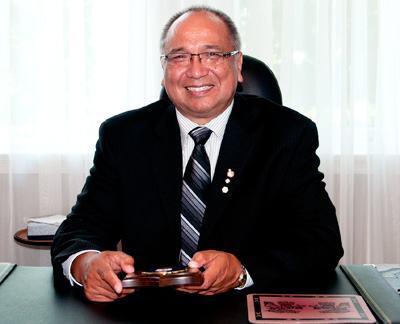 The Honourable Steven L. Point, OBC, LLD (Hon.), former Lieutenant Governor
In recognition of his contributions to residents of British Columbia and, in particular, its Aboriginal communities, Point will be honoured with the Dr. Joseph H. Cohen Award at the 11th JIBC Foundation Awards for Justice and Public Safety Gala, on December 3, 2012 at the Hyatt Regency Vancouver.
Point is one of several individuals and organizations to be recognized for outstanding contributions to justice, public safety, and community leadership at the Gala. Proceeds from the event will provide financial support for JIBC students, starting or advancing their careers as justice and public safety professionals.
Last updated December 5, 2012