JIBC adds new bachelor's degree option in New Westminster
On-campus offering of the Bachelor of Emergency & Security Management Studies program starts September 2019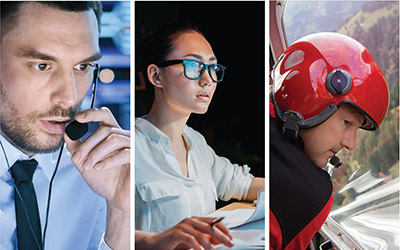 Students looking to pursue rewarding careers in growing emergency or security management fields will now have the option of completing a relevant degree full-time in New Westminster.
Applications are now being accepted for the first on-campus cohort of the Justice Institute of British Columbia's (JIBC) Bachelor of Emergency & Security Management Studies program starting in September 2019.
This new face-to-face offering of JIBC's award-winning degree program expands student opportunities to gain the education, skills and connections to help them pursue and progress in rewarding emergency management or security management careers.
"The need for people with the skills required to help communities in an emergency or disaster has only continued to grow since the program was launched online in 2010," said Sarah Wareing, Dean of the School of Public Safety. "This on-campus offering aims to meet the needs of a growing group of younger students looking for an on-campus experience as they pursue these dynamic and meaningful career paths."
Students in the program will gain a unique mix of specialized applied knowledge and transferable skills that are relevant for a diverse range of rewarding careers both locally and abroad. In addition to learning from experienced professionals who are experts in the field, they will have opportunities to meet potential employers, conduct their own applied research, and develop an online portfolio as they complete their degree.
"Emergency Management is an extremely dynamic field with so much work, it's incredible," said Tara Stroup, JIBC graduate and Emergency Program Officer for the City of Port Coquitlam. "The courses at JIBC have helped me feel confident in my role."
"The degree is excellent for people in the field and for those who want to get into the field," said Sybille Sanderson, JIBC graduate and Emergency Management Coordinator for the Cowichan Valley Regional District. "You are going to get a lot of the practical information that you will really use and need."
"I would definitely recommend JIBC's Bachelor of Emergency and Security Management Studies to anyone interested in exploring the field of emergency management," said Melodie Hutmacher, JIBC graduate and Regional Emergency Systems Coordinator in the Capital Regional District. "The program opened the door to a career that I am passionate about, and one where I feel I make a difference in my community in helping to protect from, prepare for, and recover from disaster or emergency events."
For details about the program, and to apply, visit the Bachelor of Emergency & Security Management Studies webpage.
School Counsellor Resources
Bachelor of Emergency & Security Management Studies Brochure
Bachelor of Emergency & Security Management Studies Rack Card
A Canadian Inventory of Community Service Projects for High School Graduation
About Justice Institute of British Columbia
Justice Institute of British Columbia (JIBC) is Canada's leading public safety educator with a mission to develop dynamic justice and public safety professionals through its exceptional applied education, training and research. JIBC offers internationally recognized education that leads to certificates, diplomas, bachelor's degrees and graduate certificates; exceptional continuing education for work and career-related learning and development; and customized contract training to government agencies and private organizations worldwide. Our education provides professionals with the knowledge, skills, and abilities to excel at every stage of their career contributing to safer communities and a more just society.
Last updated June 6, 2019