JIBC among Top 50 Canadian colleges and institutes for research
JIBC one of three BC colleges and institutes on 2017 list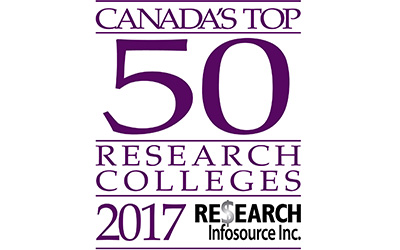 The Justice Institute of British Columbia (JIBC) has been recognized as one of Canada's top colleges and institutes for research.
JIBC was ranked second in BC and 35th nationally in the annual Top 50 Research Colleges list produced by Research Infosource Inc.
Fiscal 2016 saw JIBC perform $1.93 million in research which funded applied research in the areas of public safety and security.
"Our research supports the justice and public safety practitioners, the professions, and the training and education practices that sit at the core of the mission and mandate of JIBC," said Dr. Greg Anderson, Dean of JIBC's Office of Applied Research and Graduate Studies.
"JIBC applied research supports the JIBC Strategic and Education Plans by advancing the knowledge, theory and practice supporting the justice and public safety professions," Anderson added. "The aim is to examine the role and functions of, and the stressors on, justice and public safety practitioners, and to provide evidence supporting the experiential learning used to create transformational learning environments."
Projects that were funded during the reporting period included a study on the cause and effect of assaults against Canadian police officers. It found that approximately one-third of active-duty police officers will be assaulted at least once in a given year and suggested enhanced training procedures that could reduce the likelihood of officer injuries in such cases. Another JIBC research project, funded by the BC Ministry of Education, assessed the impact of a faculty course designed to support students with disabilities.
Two other BC post-secondary institutions were also on the list, B.C. Institute of Technology and Camosun College. Collectively, the three BC institutions posted a total of $9.6 million of research income.
To view the full list visit: Top 50 Research Colleges 2017.
About Justice Institute of British Columbia
Justice Institute of British Columbia (JIBC) is Canada's leading public safety educator with a mission to develop dynamic justice and public safety professionals through its exceptional applied education, training and research. JIBC offers internationally recognized education that leads to certificates, diplomas, bachelor's degrees and graduate certificates; exceptional continuing education for work and career-related learning and development; and customized contract training to government agencies and private organizations worldwide. Our education provides professionals with the knowledge, skills, and abilities to excel at every stage of their career contributing to safer communities and a more just society.
Last updated February 9, 2018