JIBC among the top Canadian colleges and institutes for applied research
JIBC one of three B.C. post-secondary institutions on the annual list of Canada's Top 50 Research Colleges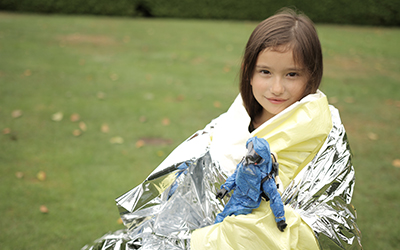 JIBC's applied research is resulting in new insights and protocols in public safety. Sofia and her mother participated in 'Exercise Green Cloud,' one of the SIMTEC research projects conducted in 2013 at JIBC. The 'Decon Doll' she is holding was designed to help prepare children for the arrival of HazMat teams. (Photo by Kevin Loh)
Justice Institute of British Columbia (JIBC) was recently recognized as one of Canada's top post-secondary institutions for research.
JIBC ranked 23rd on this year's list of Canada's Top 50 Research Colleges compiled by Research Infosource Inc. In fiscal 2013, JIBC attracted more than $2.4 million in research funding, a four per cent increase from the $2.3 million in research funding attracted in 2012. BCIT and Camosun College were the other two B.C. post-secondary institutions ranked on the list this year.
"The impact of the scholarship, innovation and applied research conducted at JIBC continues to grow, not only in B.C. but across the country," said Dr. Greg Anderson, Dean of the Office of Applied Research and Graduate Studies. "In addition to enhancing the education and training we provide, our research is informing public safety best practices and public policy."
Research projects varied widely across JIBC Schools in topic, breadth, and funding level and source. Among the projects in 2013 was JIBC's four-year Simulation Training and Exercise Collaboratory (SIMTEC) Project, which aims to develop new approaches to addressing the psychosocial dimensions of a major disaster like the uncontrolled release of chemicals, biological agents and radioactive contaminants. The project has already led to a new decontamination protocol being implemented by HazMat specialists across Canada.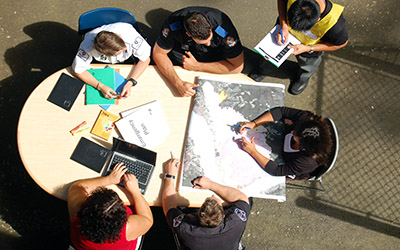 The Rural Disaster Resiliency Planning Project was also extended in 2013 to include a pilot project implementing the tools developed in a community in British Columbia. The goal of this research project was to develop and pilot a participatory, community-centered process for engaging rural, remote and small coastal (RCC) communities in disaster risk reduction planning at the local level with a focus on enhancing local capacity and capability. Other studies included work with paramedics and pre-hospital care, and building personal resilience in first responders and receivers.
"Our focus on collaboration between faculty and students, and with industry and government has contributed much to our success," said Dr. Anderson. "Through our effective partnerships, the depth, breadth and impact of the research conducted at JIBC continues to grow each year."
For more information about JIBC's research activities, visit the webpage for the Office of Applied Research & Graduate Studies.
About Justice Institute of British Columbia
Justice Institute of British Columbia (JIBC) is Canada's leading public safety educator. Our specialized programs lead to certificates, diplomas, bachelor's degrees and graduate certificates in Policing, Investigations, Emergency Management, Firefighting, Paramedicine, Sheriffs, Corrections, Counselling, Leadership, Mediation, Conflict Resolution, and Driver Training. JIBC also provides customized contract training to domestic and international governments, agencies and organizations. Our approach to education emphasizes applied learning and realistic simulations, delivered by instructors who are experienced practitioners. Our students' work makes communities safer, and helps people in need, throughout B.C., across Canada and around the world.
Last updated June 12, 2019