JIBC and College of the Rockies pledge cooperation
Institutions will jointly develop and carry out academic and applied research activities
Justice Institute of British Columbia (JIBC) and College of the Rockies (COTR) recently signed a Memorandum of Understanding that will benefit both institutions.
The MOU recognizes common interests in academics and applied research, and the need for publicly funded post-secondary institutions to collaborate for the benefit of students. The agreement is effective initially for three years and commits the institutions to explore collaboration and joint initiatives in these areas:
Student mobility and educational pathways: The institutions will seek to facilitate transfer of students and articulation of courses in order to encourage student transfers. They will also look to expand educational pathways for students at both institutions, including through joint pilot programs.
Program development and delivery: The institutions will explore the development and implementation of collaborative courses, programs and projects.
Scholarly activity: The parties will look to collaborate on scholarly activity such as professional development, applied research partnerships, and joint proposal submissions.
The MOU was signed at the Main Campus of College of the Rockies in Cranbrook by COTR President David Walls and JIBC President Dr. Michel Tarko.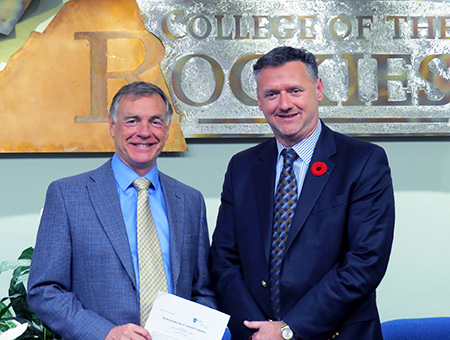 COTR President David Walls (left) and JIBC President Dr. Michel Tarko
About Justice Institute of British Columbia
Justice Institute of British Columbia is a unique public post-secondary institution focused on public and community safety education and training. JIBC provides specialized programs leading to certificates, diplomas, bachelor's degrees and graduate certificates in Policing, Investigations, Emergency Management, Fire fighting, Paramedicine, Sheriffs, Corrections, Counselling, Leadership, Mediation, Conflict Resolution, and Driver training. JIBC also provides customized contract training to domestic and international governments, agencies and organizations. JIBC emphasizes realistic simulations and applied, hands on education, delivered by instructors who are experienced practitioners. Every year, approximately 30,000 students study at JIBC. Their work makes communities safer, and helps people in need, throughout BC, across Canada and around the world.
About College of the Rockies
Located in the Kootenay Rocky Mountains of southeastern BC, College of the Rockies offers lifestyle and learning opportunities to match its spectacular setting. The Main Campus and Gold Creek Campus are in Cranbrook with regional campuses in Creston, Fernie, Golden, Invermere and Kimberley. Smaller class sizes, personalized instruction, up-to-date technology, great support services and professional, friendly staff who are dedicated to student success make the College of the Rockies the best place to live, learn and play.
Last updated April 10, 2014