JIBC Annual Awards of Excellence
JIBC recognizes internal service and excellence
Recognizing commitment through service and excellence has been an annual event since 2001 at Justice Institute of British Columbia. This year's recipients at the annual ceremony for the Awards of Excellence, like those before them, are the chosen examples of what JIBC has come to represent through dedication, commitment, innovation and creativity across the province and internationally.
The ceremony took place today at the New Westminster campus, and was webcast to JIBC's satellite campuses.
Recipients in the following categories were honoured.
President's Award
Tannis Morgan - Associate Dean, Centre for Teaching, Learning and Innovation
Tannis is well-known and respected in the wider educational technology community, participates in academic forums and continually seeks opportunities to collaborate with other institutions and hosted an e-learning showcase. She has brought in new technologies and ways of working that did not previously exist at JIBC such as Praxis, a simulation software. She worked closely with Bob Walker, simulation specialist, to advocate for its resourcing and adoption.
Tannis also helped launch the JIBC Library iPad Loan program and other mobile learning projects. She has developed a well-deserved reputation for integrity, transparency and outstanding leadership.
Friend/Associate of JIBC Award
Michael Fogel
Michael Fogel moved to B.C. from California in 1985. His association with JIBC spans three decades. He was a founding faculty member of the Centre for Conflict resolution and joined the faculty in the mid-1980s. Michael played a key role in developing the Centre's curriculum in conflict resolution, mediation and negotiation and has been instrumental in shaping the experiential curriculum that is still in use. He has served as a mentor and guide to numerous faculty members. Kent Highnam, Program Manager, School of Community & Social Justice accepted the award on Michael's behalf.
Program of Excellence Award
Advanced Care Paramedic Program - Rick Wong, Program Manager
The Advanced Care Paramedic Program (ACP) has undergone significant changes in the past two years. It has transformed from a model based on independent study to a blended learning model. The first cohort graduated in spring 2012 and enrollment has increased. A significant emphasis on inter-professional collaboration involved extensive consultations with a wide range of health professionals. The Program is now delivered through video conferencing from New Westminster to students in Victoria and Kelowna who benefit from receiving the same level of instruction as those based at the New Westminster campus.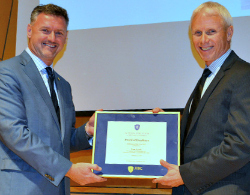 Instructor of the Year Award
Tom Lewis
Tom Lewis has been involved with curriculum development and teaching for more than 30 years starting with the Surrey Fire Service. He retired in 2006 from the Fire Service and was snatched up by JIBC's Emergency Management Division as a sessional instructor. Tom teaches a broad range of emergency preparedness and response courses for government, post-secondary education, health care and the oil and gas industry. He is repeatedly described as a gifted instructor, meticulous with detail, and a humorous, personable and helpful style with the ability to translate complex and abstract concepts into simple and concrete processes. He's considered EMD's "go-to" instructor for contract clients where learning needs must be contextualized and adapted.
Service Excellence Award
Valerie Johnston
Consistently providing service excellence is the benchmark of this award and in her role as Administrative Assistant to the V.P. Finance and Administration; Valerie's tasks include responsibility for vehicle insurance of all JIBC vehicles, managing JIBC's Records Management Program and, until recently, coordinating and publishing JIBC's weekly electronic newsletter, JustIn Times.
Valerie consistently was described as having a passion for continuous improvement and always putting clients first. She sourced, planned and organized the recent in-house training received from the BC Risk Management Branch.
Applied Research Award of Excellence
Ron Bowles
Ron Bowles joined JIBC in 1996 as an instructor in the Paramedic Academy focused on the use of simulations in paramedicine. He has been instrumental in setting the research agenda and is co-principal investigator for the Rural Disaster Resilience Project.
His expertise in the research ethics submissions' process has been welcomed. He has always been available to answer questions about research process and policies. Ron has mentored individuals in ethics submission and grant proposal writing and played an instrumental role in generating research proposals from the Office of Applied Research and Graduate Studies.
Service Awards
In addition to these Awards of Excellence, longstanding service was also acknowledged in five year increments. Employees with between five and 30 years of service were recognized.
Congratulations to all these dedicated staff, faculty and friends of JIBC, and especially to three employees who have served JIBC for 30+ years.
Susan Huffman – Corrections and Community Justice Division
Steven Schick – President's Office
Robert Walker – Centre for Teaching, Learning and Innovation
Last updated March 30, 2015