JIBC appoints new Dean, School of Criminal Justice & Security and Office of International Affairs
Previously Associate Dean, Centre for Graduate Studies and Academic Planning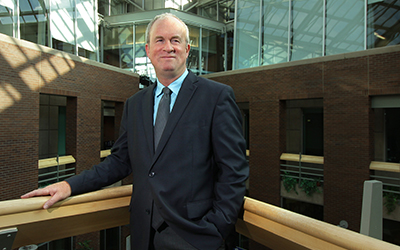 The Justice Institute of British Columbia (JIBC) is pleased to announce the appointment of Dr. Stuart Ruttan as the new Dean of the School of Criminal Justice & Security and Office of International Affairs, effective July 3.
"I look forward to the opportunity to serve JIBC in this new role, which at its core includes ensuring we maintain the quality and standards required for the client training and education we provide to municipal police, the sheriff service and corrections workers, as well as degree and diploma programs in the Justice & Public Safety Division," said Dr. Ruttan.
Dr. Ruttan joined JIBC in 2008 as a credentialing specialist. His previous position was Associate Dean, Centre for Graduate Studies & Academic Planning. He was also the Chair of the Graduate Certificates in Intelligence Analysis and Tactical Criminal Analysis.
Prior to joining JIBC, Dr. Ruttan worked in international educational programming at the post-secondary level for eight years, followed by 10 years as a university professor in Japan where he also served on an international relations committee which included attending conferences in Southeast Asia.
"Stu brings extensive academic and credentialing experience, as well as international teaching experience, to the role of Dean, School of Criminal Justice & Security and Office of International Affairs," said Colleen Vaughan, JIBC Vice-President, Academic. "That background will well position the School and OIA to meet emerging educational opportunities."
Ruttan holds a doctorate in teacher education from Nottingham University, a Masters of Education in curriculum and instruction from the University of British Columbia, and a Bachelor of Arts in classical studies from the University of Victoria.
"Among my priorities in this new role are the development of a strategic plan for the Office of International Affairs, the continued support of client programming, and the expansion of contract work. I also will be focusing on making the next level of graduate studies in Intelligence Analysis available to students at JIBC," Dr. Ruttan said. "I will continue supporting and promoting the School to make the most of its current programming and future opportunities."
About Justice Institute of British Columbia
Justice Institute of British Columbia (JIBC) is Canada's leading public safety educator with a mission to develop dynamic justice and public safety professionals through its exceptional applied education, training and research. JIBC offers internationally recognized education that leads to certificates, diplomas, bachelor's degrees and graduate certificates; exceptional continuing education for work and career-related learning and development; and customized contract training to government agencies and private organizations worldwide. Our education provides professionals with the knowledge, skills, and abilities to excel at every stage of their career contributing to safer communities and a more just society.
Last updated September 8, 2017