JIBC appoints new Dean, School of Public Safety
Most recently served as Acting Director, Emergency Management Division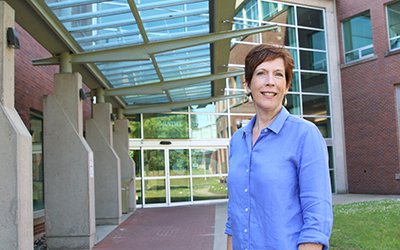 The Justice Institute of British Columbia (JIBC) is pleased to announce the appointment of Sarah Wareing as the new Dean of the School of Public Safety, effective July 3.
"It is a privilege to take on this leadership role," Wareing said. "I'm excited by the opportunity to work with my colleagues both within the School and across the Institute in support of JIBC's strategic priorities and education plan."
Wareing most recently served as the Acting Director of the Emergency Management Division (EMD). She joined JIBC in 2006 as the coordinator/instructor for Emergency Social Services training in EMD, where she was responsible for developing curriculum and delivering training to the volunteers and staff in communities around the province who provide aid to individuals and families forced to evacuate from their homes. In 2009, she switched her focus to one of JIBC's degree programs.
As program manager, she was responsible for the implementation of the Bachelor of Emergency Management Studies program. In 2013 the breadth of her responsibilities increased, and as program director in EMD, she assumed overall responsibility for all the division's credentialed programs and program and curriculum development activity. In addition, she has served on numerous Institute-wide committees, including Program Council and Program Council Curriculum Committee.
"Sarah has moved into progressively more demanding roles at the Institute, continually demonstrating her leadership skills, which she will bring to the role of Dean, School of Public Safety," said JIBC Vice-President, Academic Colleen Vaughan. "She has also shown strengths in business having led steady growth in the Bachelor of Emergency and Security Management Studies (BESMS) program despite the absence of any government funding."
Wareing has a Bachelor of Arts from Simon Fraser University and a Master's of Education from the University of British Columbia.
"It is an exciting time in the School of Public Safety, with continued growth in our contract training activities and credential programs. I look forward to working with program staff and faculty in the Driver Education Centre, Fire and Safety Division, and Emergency Management Division to pursue new opportunities both domestic and international, whether that be through contract training in new sectors or exploring articulation agreements with other institutions that will improve student pathways."
About Justice Institute of British Columbia
Justice Institute of British Columbia (JIBC) is Canada's leading public safety educator with a mission to develop dynamic justice and public safety professionals through its exceptional applied education, training and research. JIBC offers internationally recognized education that leads to certificates, diplomas, bachelor's degrees and graduate certificates; exceptional continuing education for work and career-related learning and development; and customized contract training to government agencies and private organizations worldwide. Our education provides professionals with the knowledge, skills, and abilities to excel at every stage of their career contributing to safer communities and a more just society.
Last updated September 8, 2017