JIBC appoints new Fire & Safety Division Director
Retired Fire Chief to help support the education, training and applied research needs of the Fire Service and industry partners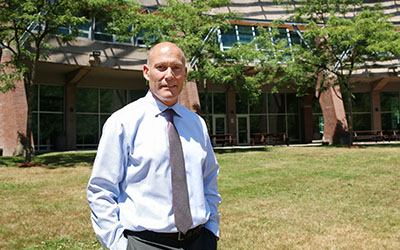 Justice Institute of British Columbia (JIBC) welcomes Craig Richardson as the new Director of the Fire & Safety Division, effective July 9.
"I am pleased to welcome Craig to JIBC," said Sarah Wareing, Dean of the School of Public Safety. "His senior leadership experience and background in instruction, combined with his knowledge of the Fire Service, are ideal for the role of Director, Fire & Safety Division. Through his leadership, we look forward to strengthening and expanding the education, training and applied research we provide to the Fire Service and industry partners."
Richardson has more than 25 years' experience in the Fire Service, beginning his career with the Surrey Fire Department in 1990. He retired in 2017 from Nanaimo Fire Rescue after seven years as deputy chief and three years as fire chief. For 10 years, he served as an elected member of the National Board on Fire Service Professional Qualifications (Pro Board) Committee on Accreditation and also served as Career Sector Deputy Director and Zone 1 Deputy Director for the Fire Chiefs Association of B.C.
He has a master's degree in leadership and training from Royal Roads University, a Provincial Instructor Diploma, a Certificate in Local Government Administration, and a Chief Fire Officer professional designation.
His connection to JIBC started in 1996 when he began serving as a sessional instructor, a role he has also played at College of the Rockies since 2007. He has done extensive committee and advisory work on accreditation, international fire instruction, and Indigenous training. Most recently, Richardson served as Fire Protection Advisor for Saudi Aramco in Saudi Arabia.
"I am really excited about joining the Fire & Safety Division team at JIBC," said Richardson. "There are tremendous opportunities in today's Fire Service. I am looking forward to collaborating with our many stakeholders and clients to meet their training and educational needs, with a focus on building strong internal and external relationships to achieve mutual goals."
About Justice Institute of British Columbia
Justice Institute of British Columbia (JIBC) is Canada's leading public safety educator with a mission to develop dynamic justice and public safety professionals through its exceptional applied education, training and research. JIBC offers internationally recognized education that leads to certificates, diplomas, bachelor's degrees and graduate certificates; exceptional continuing education for work and career-related learning and development; and customized contract training to government agencies and private organizations worldwide. Our education provides professionals with the knowledge, skills, and abilities to excel at every stage of their career contributing to safer communities and a more just society.
Last updated October 19, 2018