JIBC appoints new Vice-President, Academic
Former Dean, School of Public Safety has served in role in interim capacity for past seven months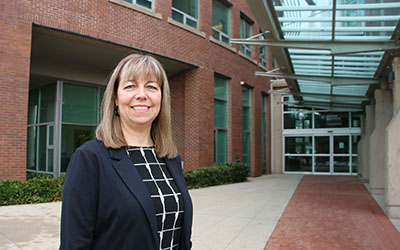 The Justice Institute of British Columbia (JIBC) is pleased to announce the appointment of Colleen Vaughan as the new Vice-President, Academic.
"I look forward to serving JIBC in this role and making a greater contribution to our students and the professions we serve," said Vaughan. "I am passionate about excellence in training and education informed by applied research to keep our communities safe, and am committed to student, faculty, staff and organizational success."
Vaughan has served as JIBC's Dean, School of Public Safety for the past four years and for the previous seven months has also filled the role of Interim, Vice-President, Academic. The appointment comes following completion of a national external search for candidates.
"In addition to her many strengths and business acumen, Colleen brings to the role of Vice-President, Academic a strong employment history with the Justice Institute of British Columbia which has initial roots with BC Corrections, growing into progressive leadership roles at the Institute," said Dr. Michel Tarko, JIBC President and CEO.
Vaughan's career commenced with the BC Corrections Branch and she was hired by JIBC as an instructor for the Corrections & Community Justice Division in 1991. Her time with JIBC has included positions as a program manager, program director, and director in the Emergency Management Division. In October 2013, she was appointed Dean, School of Public Safety with oversight for the Emergency Management Division, Fire & Safety Division and the Driver Education Centre.
She has a Diploma in Criminology from Douglas College, a Bachelor of Commerce and Master of Education degree from the University of British Columbia. She has served on numerous boards and committees locally, provincially and nationally.
In addition to her educational role, Colleen has been involved in emergency and disaster responses throughout British Columbia and the state of Georgia. She has been honoured as JIBC Instructor of the Year, and she received a NISOD Excellence Award for teaching from the University of Texas.
"I'm excited about the opportunity to serve our students, to work with government and external stakeholders, and to lead and appreciate our staff and faculty in a more substantial way," Vaughan said.
One of her main areas of focus in her new role is to implement JIBC's Strategic Plan as well as the new JIBC Education Plan. "I look forward to the opportunity to see them through to reality," she said.
"For more than 25 years I have had the privilege to be a part of the JIBC community, acquiring valuable experience, insights and perspectives of individual divisions, offices, academies, centres and support areas. As a result, I have gained a keen understanding of the importance of the collaborative and interdisciplinary work of these areas to the efficient operation and advancement of the strategic and education plans, as well as other Institute-wide plans."
About Justice Institute of British Columbia
Justice Institute of British Columbia (JIBC) is Canada's leading public safety educator with a mission to develop dynamic justice and public safety professionals through its exceptional applied education, training and research. JIBC offers internationally recognized education that leads to certificates, diplomas, bachelor's degrees and graduate certificates; exceptional continuing education for work and career-related learning and development; and customized contract training to government agencies and private organizations worldwide. Our education provides professionals with the knowledge, skills, and abilities to excel at every stage of their career contributing to safer communities and a more just society.
Last updated May 2, 2017