JIBC celebrates accomplishments of graduates at 2017 Winter Convocation
Ceremony marks graduation of approximately 375 students with certificates, diplomas, bachelor's degrees and graduate certificates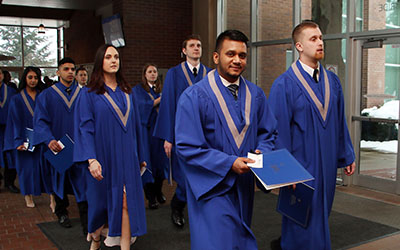 The Justice Institute of British Columbia (JIBC) recognized the achievements of approximately 375 graduates and its honorary degree recipient, Stephen Gamble, at its Winter Convocation held at the New Westminster campus on February 9, 2017.
"Because of our unique mandate, the Justice Institute of British Columbia brings together people with a passion and commitment to helping others in need. Each and every day, there are examples of our graduates supporting the health, safety and well-being of communities in B.C., across Canada, and around the world," said Dr. Michel Tarko, JIBC President and CEO, in his address to graduates.
"I encourage each of you to serve in your respective roles with conviction, knowing that what you do makes a difference – to the individuals you will help and the communities you will support, where business and industry can thrive because of the work you do in contributing to safer communities and a more just society."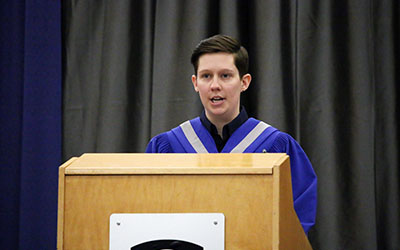 Speaking at convocation on behalf of all the graduating students was Katrina Dauncey, a graduate of the Law Enforcement Studies Diploma program. She cited its emphasis on hands-on learning through instructors with experience in their respective fields as a major reason JIBC is Canada's leading public safety educator.
"We truly had the opportunity to gain invaluable hands-on training from the best in the business, and all of these unique learning tools really give the students here the upper hand when applying for their desired careers," Dauncey said. "With the education we have all obtained, I'm confident the individuals up here today can and will make a huge impact in the communities where they will be working in, and in their everyday personal lives."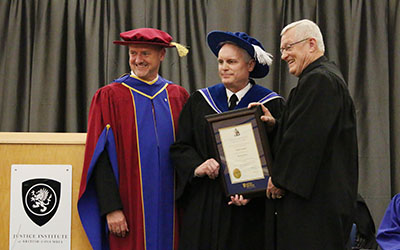 Stephen Gamble, Fire Chief of the Township of Langley, was conferred an honorary degree in recognition of his longstanding commitment to public safety, demonstrated leadership and dedication to public service.
"You, like the Canadian military that proudly serve this country, are about to embark on what I believe is a very important and crucial role in a modern day society – serving the public," Gamble said in his remarks to graduates.
"It's up to us to show our respect to those that we serve by: having our head in the game at all times; being the best we can be; working hard; and finally, making a difference each and every day, because we owe it to the people we serve."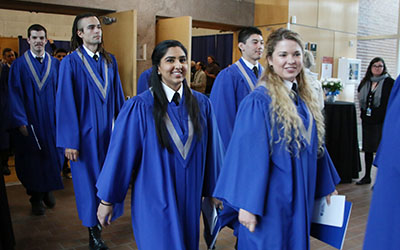 About Justice Institute of British Columbia
Justice Institute of British Columbia (JIBC) is Canada's leading public safety educator with a mission to develop dynamic justice and public safety professionals through its exceptional applied education, training and research. JIBC offers internationally recognized education that leads to certificates, diplomas, bachelor's degrees and graduate certificates; exceptional continuing education for work and career-related learning and development; and customized contract training to government agencies and private organizations worldwide. Our education provides professionals with the knowledge, skills, and abilities to excel at every stage of their career contributing to safer communities and a more just society.
Last updated August 28, 2018