JIBC celebrates service excellence of staff and support of alumni and partners
Annual JIBC Awards of Excellence presented at New Westminster campus
The exceptional contributions of Justice Institute of British Columbia (JIBC) staff, instructors, alumni and partners were recognized today at JIBC's 14th annual JIBC Awards of Excellence ceremony.
The awards were presented by JIBC President & CEO Dr. Michel Tarko at a special ceremony held at the New Westminster campus which was webcast to the Institute's other campuses throughout the province.
"I'm honored to acknowledge the exceptional contributions and the commitment to excellence shown by our deserving award recipients," said Dr. Tarko. "Their dedication and sincere effort have all contributed to the success of JIBC and our students making a difference in communities throughout B.C., across Canada, and around the world."
This year, awards were presented to more than 50 people in eight different categories. Recipients in the following categories were honoured.
President's Award
Jodie Marshall, Manager, Medical Responder Programs, JIBC Health Sciences Division
Jodie Marshall works tirelessly to ensure the success of JIBC students and demonstrates integrity in all that he does. As the manager of JIBC's Medical Responder Programs, he has led his team to expand delivery of Emergency Medical Responder (EMR) courses at JIBC and with partner institutions around the province. His friendly demeanour and "can do attitude" has contributed to several partnerships with Aboriginal organizations and agencies, leading to several very successful deliveries of EMR courses in Aboriginal communities throughout B.C. One example is the successful delivery of the Foundations of Emergency Medical Responder program in Aboriginal communities. Jodie continues to work with Aboriginal educational and employment partners to improve access and success for future learners.
Instructor of the Year
Sherri Calder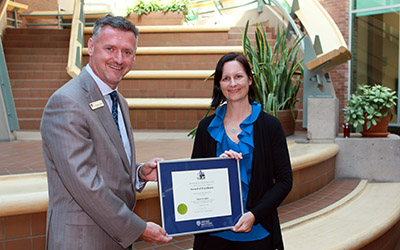 A Registered Clinical Counsellor, Sherri Calder has been teaching conflict resolution courses at JIBC for more than 12 years. Over the past five years, she has also taught conflict resolution courses in JIBC's Law Enforcement Studies Diploma program, teaching essential skills for future law enforcement professionals. In addition to adding real-life situations that occur in law enforcement to illustrate key conflict resolution theories and principles, she constantly looks for ways to improve the curriculum to keep it current and relevant. Her dedication to supporting students is exemplified by the consistently exceptional feedback she receives from student evaluations and the success her students have achieved in their careers. One student who was working in security remarked: "I can genuinely say I've followed every single method that Sherri has taught me and it has worked to perfection. My coworkers often marvel at how I am able to diffuse a situation and solve anything that comes my way using only words and nothing more. I cannot begin to express how grateful I am for this as it has literally saved me from being physically harmed on multiple occasions."
Service Excellence Award
Greg Wright, Regional Training Coordinator, School of Health, Community & Social Justice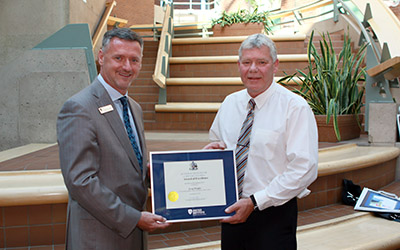 Greg Wright consistently demonstrates a commitment to providing exceptional service. As the Regional Training Coordinator for Rural Delivery, Greg coordinates delivery of paramedic training in remote communities throughout B.C. He has gone the "extra mile" in his role, bringing Primary Care Paramedic training to Trail, Smithers, Prince George and Dawson Creek, Terrace and Fort St. John. He also promotes interoperability and inter-professional education with various health care professionals, emergency services personnel and other agencies. He has also developed and enhanced relationships with clients by working closely with post-secondary institutions JIBC has developed partnerships with, including the College of New Caledonia, North Island College, Northern Lights College and College of the Rockies. His professional work ethics nourish these partnerships, contributing to JIBC's reputation as a leader in public safety education.
Distinguished Alumnus Award
Port Moody Police Chief Constable Chris Rattenbury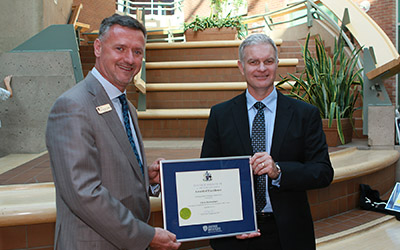 Chief Rattenbury has made significant contributions to police training in British Columbia. He has routinely assisted the JIBC Police Academy in simulations and other training opportunities as he progressed through his career. He is currently a member of the Police Academy Chief's Committee, a governance committee that oversees the operations of the Police Academy on behalf of Police Services and British Columbia's Chiefs of Police.
Excellence in Applied Research Award
Jim Boerma, Project Manager, Office of Applied Research & Graduate Studies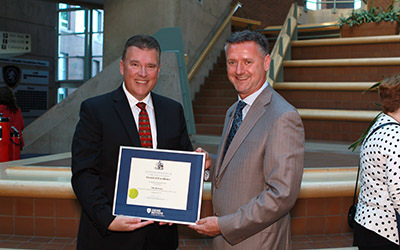 Jim provides invaluable support to the Office of Applied Research & Graduate Studies, and in particular, to the Simulation Training and Exercise Collaboratory (SIMTEC) project, a multi-million dollar federal initiative designed to enhance the psychosocial capacity and capability management pertaining to events that involve explosions that cause widespread damage, or the uncontrolled release of chemicals, biological agents or radioactive contamination into the environment. In addition to providing project management support, Jim consistently looks for opportunities to include other schools and staff in the SIMTEC project. He provides outstanding support to ensure that faculty has access to the latest research materials and shares some of the lessons learned from the SIMTEC project to contribute to improved training materials for JIBC students and other public safety professionals.
Program of Excellence Awards
The Intelligence Analysis and Tactical Criminal Analysis graduate certificate programs; the Competencies in Leadership Program; and the Emergency Management Exercise Design Certificate program were recipients of the Program of Excellence Awards this year.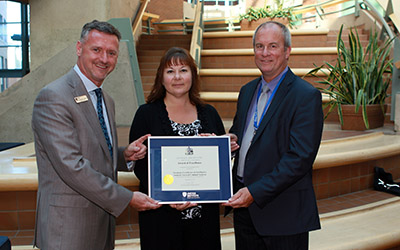 Dr. Michel Tarko with Tracie Gavriel and Dr. Stuart Ruttan, representing the team involved in the combined effort of the Centre for Graduate Studies and Academic Planning in the Office of Applied Research & Graduate studies and the School of Criminal Justice & Security to develop and implement the Intelligence Analysis and Tactical Criminal Analysis graduate certificate programs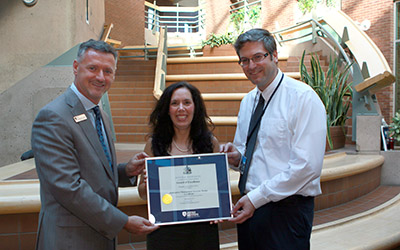 Dr. Michel Tarko with Celia Quigley and Darren Blackburn of the Emergency Management Division representing the team involved in the Emergency Management Exercise Design Certificate program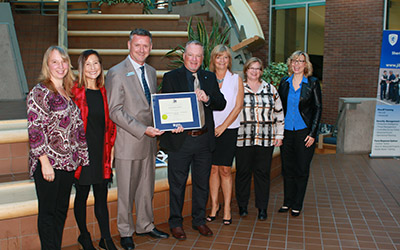 Centre for Leadership staff with Dr. Michel Tarko recognized for their work
with the successful Competencies in Leadership Program
Friend/Associate of JIBC Award
Maria Yonadin of Corporate Caterers
Maria Yonadin is employed with Corporate Caterers and has been supervising the kitchen staff at the New Westminster campus for many years. She plays an important role in ensuring that our students, staff and visitors have access to nutritious and delicious food each day. The fact that local residents, including New Westminster police officers regularly eat at the JIBC Cafeteria is a testament to the quality of the food and the exemplary service provided by Maria and her staff.
Service Awards
Each year, JIBC recognizes the longstanding service, dedication, commitment and accomplishments of its staff who had achieved milestones of employment length ranging from five to 30 years.
In addition to the 23 employees this year recognized for reaching a five, 10 and 15-year milestone of service, JIBC recognized seven staff members who have served JIBC for more than 20 years:
Wendy Boulter, School of Public Safety
Lynda Getz, Student Affairs
Rob Hooft, JIBC Library
Robyn Kowan, School of Criminal Justice & Security
Gail Makowsky, Student Affairs
Cynthia Teo, Finance & Administration
Sherri Rudeloff, School of Public Safety
About Justice Institute of British Columbia
Justice Institute of British Columbia (JIBC) is Canada's leading public safety educator. Our specialized programs lead to certificates, diplomas, bachelor's degrees and graduate certificates in Policing, Investigations, Emergency Management, Firefighting, Paramedicine, Sheriffs, Corrections, Counselling, Leadership, Mediation, Conflict Resolution, and Driver Training. JIBC also provides customized contract training to domestic and international governments, agencies and organizations. Our approach to education emphasizes applied learning and realistic simulations, delivered by instructors who are experienced practitioners. Our students' work makes communities safer, and helps people in need, throughout B.C., across Canada and around the world.
Last updated December 8, 2014