JIBC collaborates with the Universidad de Guadalajara in a unique faculty development program
Second cohort nears completion of program to encourage professors to incorporate student-centred and mobile learning into teaching methods
In 2015, the Centre for Teaching, Learning and Innovation (CTLI) at the Justice Institute of British Columbia (JIBC) began working with the team at the Universidad de Guadalajara's (UdeG) Coordinación de Innovación Educativa y Pregrado (CIEP). The goal of the collaboration with the large public university comprised of 15 campuses and more than 100,000 students was to produce a unique faculty development program to transform teaching and learning at UdeG. The result was a program in Student Centred and Mobile Learning, dubbed "The Agora." By December 2016, over 400 UdeG professors will have completed the program, and a formal research study is underway to evaluate the effectiveness of the program in transforming teaching and learning.
"An important element to the success of this program was adopting a co-development model with the CIEP-UdeG at the outset. This is especially important with an international collaboration between two very different institutions and institutional contexts, yet who share many similar faculty development challenges," explained Dr. Tannis Morgan, Director of JIBC's Centre for Teaching, Learning & Innovation.
"The UdeG acknowledged that while faculty attend workshops, conferences, and other learning opportunities, not much changes in the classroom. We recognized this as something our own institutions experience, and together challenged ourselves to come up with a program that would result in long-term change of teaching and learning."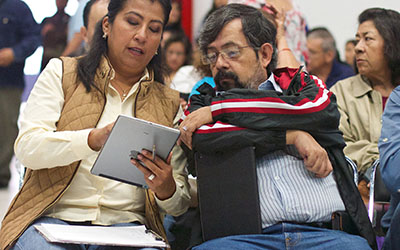 Participants in the first cohort of The Agora program on student-centred and mobile learning held at the Universidad de Guadalajara in 2015.
The result was a nine-week, blended program that takes place over six months. The goal was for faculty to confidently integrate student-centred strategies and activities using mobile technologies into their own courses to enhance learning outcomes. This is achieved through an intensive week of hands-on studios and challenges, followed by eight weeks of planning and application of activities with their students in their classes. Faculty are then required to report back, with actual student feedback, on how their applications did or didn't enhance the teaching and learning experience. Faculty work in interdisciplinary triad teams to allow for more localized support and to encourage the development of communities of practice that will hopefully remain once the program is completed.
The program also adopts an open pedagogy design to model and encourage open practices and sharing within and beyond the university. All of the content at udg.theagoraonline.net is openly CC BY licensed and can be repurposed and reused by anybody. Presently, at least two other institutions are remixing and reusing the studio materials from the program.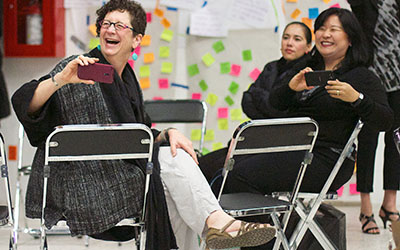 Participants in the first cohort of The Agora program at the Universidad de Guadalajara in 2015.
"We are so fortunate to have been able to work with such great collaborators at the University of Guadalajara," said Barb Kidd, Dean of JIBC's School of Health, Community & Social Justice. "Rather than simply provide a turn-key faculty development solution, both of our institutions were greatly enriched by the coming together of expertise and knowledge sharing that the co-development model allowed. It also speaks to the incredible opportunity for Canadian colleges and institutes to work with and leverage CICAN partnerships."
"We look forward to the results of the research, which will indicate whether one year later, faculty are still implementing ideas from the program with their classes," said Dr. Morgan. "If this is the case, then it speaks to how a rethink of faculty development activities and programming may achieve longer term results."
To follow developments in the program, visit the program website at http://udg.theagoraonline.net, follow @AgoraUdG on Twitter or the hashtag #UdGAgora. To view feedback from the University of Guadalajara team visit https://youtu.be/g26CfmEWAZ8.

About Justice Institute of British Columbia
Justice Institute of British Columbia (JIBC) is Canada's leading public safety educator with a mission to develop dynamic justice and public safety professionals through its exceptional applied education, training and research. JIBC offers internationally recognized education that leads to certificates, diplomas, bachelor's degrees and graduate certificates; exceptional continuing education for work and career-related learning and development; and customized contract training to government agencies and private organizations worldwide. Our education provides professionals with the knowledge, skills, and abilities to excel at every stage of their career contributing to safer communities and a more just society.
Last updated March 3, 2017