JIBC contributes to the creation of a national roadmap for paramedic training in Singapore
Paramedics in Singapore will have an opportunity to complete an advanced diploma or a bachelor's degree to advance their careers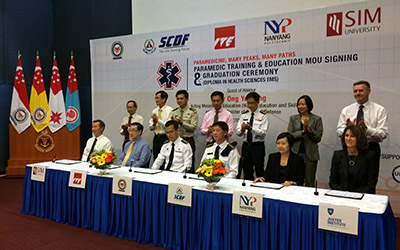 In mid-October, the Singapore government announced the launch of the National Paramedic Training and Education Roadmap, which provides multiple opportunities for paramedics to pursue professional upgrading and deepen their industry-relevant skills and knowledge.
Dr. Michel Tarko, President and CEO of JIBC, and Barb Kidd, Dean of JIBC's School of Health, Community and Social Justice, were on hand to sign a Memorandum of Understanding to formalize the collaboration between paramedic employers in Singapore and educational institutions helping students advance their skills.
Organizations involved in the new initiative include the Singapore Armed Forces (SAF), the Singapore Civil Defence Force (SCDF), the Institute of Technical Education, Nanyang Polytechnic University, SIM University and JIBC.
"We value the strong relationship we've developed in Singapore since JIBC helped launch the paramedic training program for the Singapore Armed Forces (SAF) and the Singapore Civil Defence Force (SCDF) in 1996," said Dr. Michel Tarko, President and CEO of JIBC. "Over the years, our relationship has strengthened and resulted in the co-development in 2012 of the Diploma in Health Sciences (Emergency Medical Services) for SAF members. Working with our educational partners in Singapore, we are proud to be involved in the expansion of paramedic education in Singapore with the launch of the new roadmap."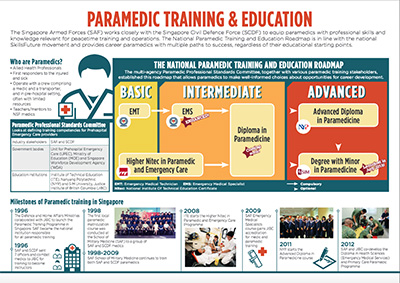 Under the new roadmap, paramedics with basic Emergency Medical Technician certification will be able to upgrade their qualifications up to an Advanced Diploma in Paramedicine from Nanyang University or a Bachelor's Degree with a minor in paramedicine from SIM University. As part of the requirements of the degree program, students will take a number of online JIBC courses in paramedicine and public safety.
The SAF's Chief of the Medical Corps COL (Dr.) Tang Kong Choong affirmed the value of the roadmap to the SAF. He said, "Paramedics are our first responders in providing emergency medical and health care, and play a crucial role in the SAF's operations. They are also teachers and mentors for our medics who provide frontline medical support for the SAF. Their professional development is a key priority for the SAF. We are delighted to be able to establish a long-term, professional programme which strengthens the competencies of our paramedics to better equip them with the medical knowledge and practical skills to support the SAF's wide range of operations."
On the close partnership between the SAF and the SCDF, the SCDF's Chief Medical Officer COL (Dr) Ng Yih Yng said, "The SCDF welcomes the launch of this roadmap with the SAF as it will enhance the paramedic profession in Singapore and promote lifelong learning. This educational roadmap creates a flexible career track that provides many entry points for our SCDF paramedics to master life-saving skills in fulfilling their passion to help others."
About Justice Institute of British Columbia
Justice Institute of British Columbia
(JIBC) is Canada's leading public safety educator with a mission to develop dynamic justice and public safety professionals through its exceptional applied education, training and research. JIBC offers internationally recognized
education that leads to certificates, diplomas, bachelor's degrees and graduate certificates
; exceptional continuing education for work and career-related learning and development; and customized contract training to government agencies and private organizations worldwide. Our education
provides professionals with the knowledge, skills, and abilities to excel at every stage of their career
contributing to safer communities and a more just society.
Last updated August 15, 2016