JIBC delegation forges new relationships with public safety agencies in Asia
Visits to China, Singapore, Hong Kong and Japan support growth of international public safety education, contract training and applied research at JIBC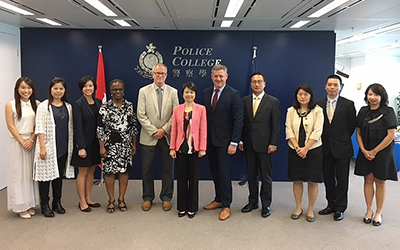 New relationships were forged and existing partnerships strengthened during a recent mission to Asia by a delegation from the Justice Institute of British Columbia (JIBC). The visit included stops in Singapore, Hong Kong, China and Japan.
The four-week tour began in October with a visit to Singapore by Dr. Michel Tarko, JIBC President and CEO, and Deborah Richards, Program Director for JIBC's Centre for Continuing Professional Health Education. They met with key leaders from the Singapore Armed Forces, a partner with JIBC for 20 years in medic training, Singapore Civil Defence Force, and Singapore University of Social Sciences, all to which JIBC provides paramedic training. In addition to discussions of renewing contracts and expanding JIBC's offerings to these partners, the delegation met with a private ambulance company about potential contract training opportunities.
In Hong Kong, the delegation was joined by Dr. Stuart Ruttan, Dean of JIBC's School of Criminal Justice & Security and the Office of International Affairs. They met with leaders in Hong Kong Fire Service Ambulance Command, which has provided JIBC-accredited paramedic training programs for 25 years, and explored new partnership opportunities with the Hong Kong Fire and Ambulance Service Academy.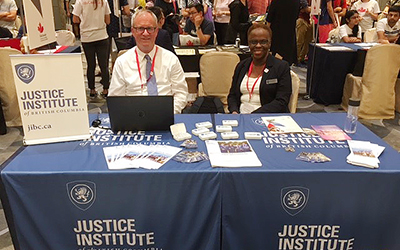 The JIBC delegation also participated in the Hong Kong EduCanada Fair, organized by the Canadian federal government to promote the Canadian education sector, and met with potential new clients from Hong Kong's public safety sector about opportunities to partner on training and research initiatives.
"We are proud of JIBC's long-time partnerships with public safety agencies in Asia. That track record resulted in very productive meetings and exploration of expansion of JIBC training opportunities during our tour of the region," said President Tarko. "These agencies want to provide the best possible training to their recruits and turn to JIBC for its experience and exceptional reputation in paramedic, first-responder and emergency management training."
Drs. Tarko and Ruttan, as well as Colleen Vaughan, JIBC Vice-President, Academic, visited several cities in China including Beijing, where JIBC was one of 135 Canadian institutions, among more than 400 overall, that participated in the Beijing Education Fair. The delegation also met with officials from the People's Public Security University of China who provided positive feedback on the current four-month international study program at JIBC and discussed potential student and faculty exchanges and other possible ways of partnering together with JIBC.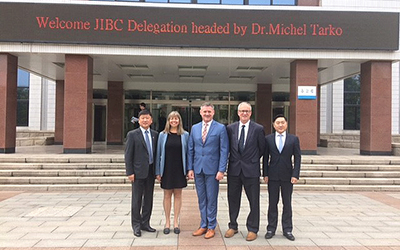 In Taiyuan, a new partnership agreement was signed with Shanxi Police College which will send students to JIBC for its four-month International Law Enforcement Studies (ILES) program in the spring of 2018.
The group met with leaders at existing clients Henan Police College and Railway Police College, both in Zhengzhou, and discussed opportunities as well as their continuing commitment to the ILES program. The China leg of the trip wrapped up with promotion of the educational offerings at JIBC through participation at the China Education Expo in Shanghai.
Over the past few years, JIBC has trained several delegations from Chinese police colleges at its New Westminster campus through two-week and four-month ILES programs.
"We are pleased that our existing police college partners in China continue to be committed to JIBC's international program as a means to expose their recruits to internationally-recognized best practices across the criminal justice system and specifically in law enforcement," said President Tarko.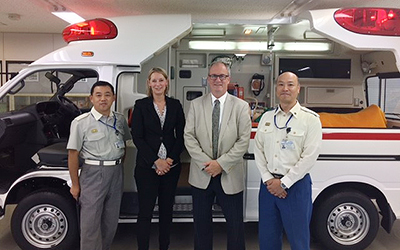 New relationships were forged in Japan where the JIBC delegation, including Kathy Harms, Director of JIBC's Health Sciences Division, met with government, university and public safety sector officials about the potential for partnerships in the areas of paramedic education, emergency management and disaster response.
"The visit was a positive introduction to the public safety sector in Japan, where we hope to continue to build on our newfound relationships and eventually contribute to first responder, paramedic training and emergency management efforts," said Dr. Ruttan.
About Justice Institute of British Columbia
Justice Institute of British Columbia (JIBC) is Canada's leading public safety educator with a mission to develop dynamic justice and public safety professionals through its exceptional applied education, training and research. JIBC offers internationally recognized education that leads to certificates, diplomas, bachelor's degrees and graduate certificates; exceptional continuing education for work and career-related learning and development; and customized contract training to government agencies and private organizations worldwide. Our education provides professionals with the knowledge, skills, and abilities to excel at every stage of their career contributing to safer communities and a more just society.
Last updated March 6, 2018