JIBC director recognized for work in open education
Dr. Tannis Morgan receives BCcampus Award for Excellence in Open Education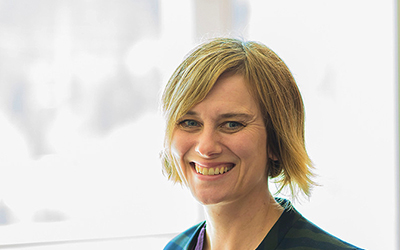 A longtime proponent of open education at the Justice Institute of British Columbia (JIBC) has been recognized with the BCcampus Award for Excellence in Open Education.
Dr. Tannis Morgan, Director of JIBC's Centre for Teaching, Learning & Innovation, received the honour for her work on championing affordable and open resources such as free textbooks available online.
Several years ago, even before BCcampus put out a call for grants for such projects, Dr. Morgan conceived of JIBC's Zed Cred initiative, a set of courses in a specific program area that allows a student to earn a credential with zero textbook costs through the use of open educational resources and/or free library materials.
In addition to her work in helping create open resources for use by JIBC students and the community, she has led and facilitated the collaborative Agora faculty development program at the Universidad de Guadalajara in Mexico (which received a 2017 Award for Excellence from the Open Education Consortium). Her efforts advocating for open education resources include her blog and numerous presentations internationally.
For more information on the award visit BCcampus.ca.
About Justice Institute of British Columbia
Justice Institute of British Columbia (JIBC) is Canada's leading public safety educator with a mission to develop dynamic justice and public safety professionals through its exceptional applied education, training and research. JIBC offers internationally recognized education that leads to certificates, diplomas, bachelor's degrees and graduate certificates; exceptional continuing education for work and career-related learning and development; and customized contract training to government agencies and private organizations worldwide. Our education provides professionals with the knowledge, skills, and abilities to excel at every stage of their career contributing to safer communities and a more just society.
Last updated August 20, 2018