JIBC donor experiences a day in the life of a firefighter recruit
"We couldn't have asked for a better experience" says JIBC supporter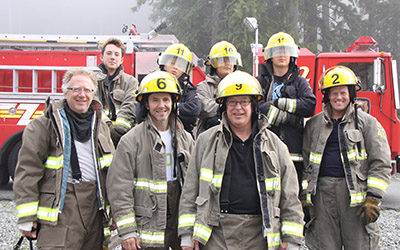 A diverse group gets a taste of firefighter recruit training. Front row: John Kaczmarowski, Rick Morrow, Robert Wickett, David Adamoski. Back row: Finn Kaczmarowski, Jack Morrow, Ryan Adamoski, Ben Wickett
Firefighting requires a lot of specialized training. A lawyer, an architect, a regional planner, a software architect and four Grade 9 students received a taste of that training recently at the Justice Institute of British Columbia's Maple Ridge campus.
Trial lawyer Robert Wickett, QC, spent an intense day on September 27, 2014 accompanied by his 14-year-old son and friends at the specialized facility where firefighters from many municipal departments in B.C. come to train.
"We had a tremendously enjoyable and informative day," said Wickett, a lawyer with Mackenzie Fujisawa LLP. "We couldn't have asked for a better experience and our boys have had their first job training. We all learned that a firefighter's life is both physically demanding and dangerous. Even with that, the boys may well be future firefighters."
Wickett secured this unique opportunity as a result of supporting the 2013 JIBC Foundation Awards for Justice and Public Safety Gala. He placed the winning bid for this rare team-building auction item at the fundraising event in support of student learning.
The experience for "Team Wickett" started shortly after 9 a.m. with some basic fire theory from JIBC instructor Bob Manyk, a retired 28-year veteran of Vancouver Fire and Rescue.
Anxious to experience the sights and sounds of the campus, the team boarded a fire truck to tour the 25-acre grounds, which include airplane and ship props, cranes, and an 11-car mock train derailment – the largest in Canada – used to train firefighters from across the country to respond to railway disasters, fires and chemical spills.
With lights flashing and sirens blaring, Team Wickett returned eager to take on its first task: learning to use a contained breathing apparatus. Under Manyk's instruction and supervision, the team quickly proceeded to navigate the smoke house, extinguish different types of fires, work the hose and observe a fire "roll over" in the three-storey concrete Burn Building.
Team Wickett wrapped up its exciting jam-packed day over root beers in the parking lot.
"This was an experience that should be shared widely," said Wickett. "We were thankful for Bob Manyk's work in teaching us about the basics of fire behaviour and firefighting. He ensured that the experience was one not to be forgotten. I would recommend this for anyone with a sense of adventure."
About The JIBC Foundation
Since 1993, The JIBC Foundation has worked on behalf of the Justice Institute of British Columbia to raise funds for student scholarships and bursaries, research, equipment and other tools for learning. By inspiring giving through various initiatives, the Foundation enhances student learning at Canada's leading public safety educator.
Last updated December 17, 2014