JIBC firefighting grads deployed to provide firefighter training in Central America
Recipients of Irving K. Barber One World Scholarship to gain valuable work experience in El Salvador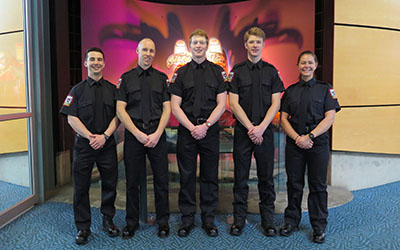 From left, Connor Llewellyn, Douglas Race, Spencer Kyte, Tommy Robertson and Ryanna Smith are JIBC firefighting graduates now in El Salvador thanks to the Irving K. Barber One World International Scholarship program.They will be deployed for two weeks to learn from local firefighters and support Lower Mainland firefighters as they provide training to El Salvadorian fire crews.
Five recent firefighting graduates of the Justice Institute of British Columbia (JIBC) have been deployed to El Salvador to support firefighter training.
The five, all graduates of JIBC's Fire Fighting Technologies Certificate (FFTC) program, left Vancouver February 13, 2018 for the Central American country, where they have volunteered to work for more than two weeks providing basic training for firefighters in that country. During the deployment, the students will learn about El Salvador's fire service from local firefighters and gain an appreciation of how they do their jobs with the few resources available to them.
They will be supported by JIBC instructors who are members of Fire Rescue International Training Association (FRITA), which has been a partner in providing a culturally rich and unique opportunity for JIBC firefighting graduates.
The deployment is part of a special course called Fire Protection in the Global Community and is made possible through funding from the Irving K. Barber One World International Scholarship administered by the Victoria Foundation, and with additional financial support from JIBC.
The 2018 One World Scholarship group includes Case Buys, Spencer Kyte, Connor Llewellyn, Douglas Race and Ryanna Smith.
"I am honoured to be awarded this scholarship and thankful for this opportunity to visit El Salvador. I believe it will play a pivotal role in helping me to achieve my ultimate goal of becoming a career firefighter. While travelling in El Salvador, we will not only be able to practice our skills, but more importantly learn new skills and gain different perspectives," said Spencer Kyte.
"The One World Scholarship is an amazing opportunity. To be able to continue learning about the fire service while helping those from another country is truly a once in a lifetime trip," said Connor Llewellyn, a graduate of FFTC Class 13. "During this deployment to El Salvador I aspire to learn as much as I teach. Whether it is learning about the culture of El Salvador, firefighting skills, the Spanish language, or all of the other learning potential that the deployment has to offer."
"I am looking forward to being challenged during this process, to prepare properly for our time abroad and further develop my teamwork, interpersonal and communication skills," said FFTC Class 11 graduate Ryanna Smith. "I am excited to learn more about El Salvador and its people – to soak up the culture and experience, what day to day looks like in this beautiful and resilient country. I am incredibly grateful to be able to take part in this once-in-a-lifetime opportunity and I am looking forward to the adventures that lie ahead."
The One World scholarship recipients will be documenting their experience online next month. To follow their activities during their deployment, visit the One World Scholarship & Fire Protection in the Global Community Facebook page.
About Justice Institute of British Columbia
Justice Institute of British Columbia (JIBC) is Canada's leading public safety educator with a mission to develop dynamic justice and public safety professionals through its exceptional applied education, training and research. JIBC offers internationally recognized education that leads to certificates, diplomas, bachelor's degrees and graduate certificates; exceptional continuing education for work and career-related learning and development; and customized contract training to government agencies and private organizations worldwide. Our education provides professionals with the knowledge, skills, and abilities to excel at every stage of their career contributing to safer communities and a more just society.
Last updated August 2, 2018