JIBC firefighting grads eager to teach and gain experience in Belize
Recipients of the Irving K. Barber One World Scholarship will be deployed in Belize with firefighters from across the Lower Mainland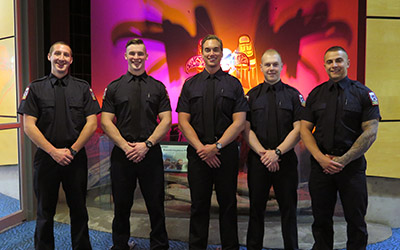 JIBC firefighting graduates Sean Campbell, Jacob Woronuik, David Mathieson, Cody DiSalvo and Arseni Oursov are the 2016 One World Scholars supporting firefighting training in Belize
Five recent firefighting graduates from the Justice Institute of British Columbia (JIBC) are supporting firefighting training in Belize.
Graduates of JIBC's Fire Fighting Technologies Certificate (FFTC) program left Vancouver February 13, 2016 for a three-week deployment to support Lower Mainland firefighters from Fire Rescue International Training Association (FRITA) as they provide basic training for firefighters in Belize.
For several years, JIBC has partnered with FRITA to provide firefighting graduates the opportunity to support emergency services personnel training in developing countries. The deployment is part of a special course called Fire Protection in the Global Community and is made possible through funding from the Irving K. Barber One World International Scholarship administered by the Victoria Foundation, and with additional financial support from JIBC.
This year's team includes graduates from the Lower Mainland, Fraser Valley, Vancouver Island and Ontario. Each of them are eager to gain invaluable experience and also support firefighting training in a developing country.
"Through this experience, I look forward to gaining an understanding of the difficulties emergency responders face in Belize and how they manage them," said Jacob Woronuik. "I'm excited to share my experience and learn from this amazing opportunity we've been selected to participate in."
"I'm excited to have the opportunity to travel to Belize to learn about their culture and way of life, and learn about their firefighting program," said Arseni Oursov, 24, from Chilliwack. "I'm going to take in as much information as possible."
"The opportunity to travel to Belize and work with firefighters from another country who share the same passion and love for the job will be a great experience," said 21-year old Sean Campbell.
"I'm looking forward to working with and learning from the other recruits, and learn about their culture and customs," said David Mathieson, 27, an FFTC graduate from Victoria. "I hope to take what I learn there and apply that knowledge as a firefighter back in Canada."
"I believe this trip will not only strengthen my motivation to become a firefighter, but will give me an amazing experience that will help me throughout my career and my life," said Cody DiSalvo from FFTC Class 3.
The One World scholarship recipients will be documenting their experience online next month. To follow their activities during their deployment, visit the One World Scholarship & Fire Protection in the Global Community Facebook page.
About Justice Institute of British Columbia
Justice Institute of British Columbia (JIBC) is Canada's leading public safety educator with a mission to develop dynamic justice and public safety professionals through its exceptional applied education, training and research. JIBC offers internationally recognized education that leads to certificates, diplomas, bachelor's degrees and graduate certificates; exceptional continuing education for work and career-related learning and development; and customized contract training to government agencies and private organizations worldwide. Our education provides professionals with the knowledge, skills, and abilities to excel at every stage of their career contributing to safer communities and a more just society.
Last updated March 10, 2016