JIBC firefighting grads to gain teaching, work experience in El Salvador
Recipients of Irving K. Barber One World Scholarship to be deployed in El Salvador with firefighters from across Greater Vancouver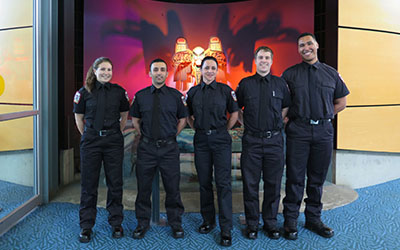 From left, Ava Gartner, Yousif Safar, Jennifer Simmons, Ryan Tostenson, and Phoenix Gordon, seen here at YVR Airport, are JIBC firefighting graduates heading to El Salvador thanks to the Irving K. Barber One World International Scholarship program. They will be deployed for two weeks learning from local firefighters and supporting Lower Mainland firefighters as they provide training to El Salvadorian crews.
Five recent firefighting graduates of the Justice Institute of British Columbia (JIBC) are heading to Central America to support firefighter training.
The five, all graduates of JIBC's Fire Fighting Technologies Certificate (FFTC) program, left Vancouver February 16, 2017 for El Salvador, where they will be deployed for approximately two weeks supporting Lower Mainland firefighters from Fire Rescue International Training Association (FRITA) as they provide basic training for firefighters in that country.
For several years, JIBC has partnered with FRITA to provide firefighting graduates the opportunity to support emergency services personnel training in developing countries. The deployment is part of a special course called Fire Protection in the Global Community and is made possible through funding from the Irving K. Barber One World International Scholarship administered by the Victoria Foundation, and with additional financial support from JIBC.
"The JIBC Fire & Safety Division is very proud of its partnership with FRITA as it provides a rich and unique learning opportunity for our graduates," said Charlene Jordan-Jones, deputy director of JIBC's Fire & Safety Division. "Our graduates will have the opportunity to apply their learning in training scenarios with firefighters from El Salvador with the added benefit of gaining experience with how fire and emergency response is delivered in another country.
"This experience will not only benefit the students with attaining a career in the fire service but it will have long-term benefits and impacts that last a lifetime. We are very pleased to be able to offer this 'one of a kind' opportunity to our graduates."
The five students will spend their first week in El Salvador learning about that country's fire service from experienced, local firefighters, and gaining an appreciation of how firefighters there are innovative in doing their jobs with the few resources available to them. During their second week, the JIBC crew will work alongside the contingent of Lower Mainland firefighters to provide training in firefighter survival skills at three fire halls in San Salvador.
This year's One World Scholarship group includes JIBC graduates from Vancouver, Surrey and North Vancouver. All are excited at the opportunity to gain international experience while supporting firefighter training in a developing country.
"The ability to teach and learn from firefighters in El Salvador will be a life changing experience for all of us," said Ryan Tostenson, a graduate from FFTC Class 6. "An interesting part of this scholarship is that you realize individuals have 'shared needs' and that we can work together to accomplish these goals and needs. This course is an exceptional way to learn and understand different cultures, while realizing that firefighting doesn't recognise international borders and boundaries. "
"I wanted to expand my horizons and continue learning in another setting with new people. The idea of an exchange of knowledge and practicing what I had learned from the Justice Institute was very exciting to me," said FFTC Class 6 graduate Ava Gartner of her decision to apply for a One World Scholarship. "I am excited for this course because it will expose me to a different culture both within and outside of the fire service. I feel that it will help me understand firefighting in a global context and spark ideas that may not exist locally. "
"In taking this course I am keen to discover a sense of connectedness to firefighters in the global community and gain a deeper understanding and appreciation for the career," said Jennifer Simmons of FFTC Class 8. "In addition, when I learned about the gang problem in El Salvador, I felt as though having the opportunity to teach local first responders vital fire ground skills would provide Salvadorian youth with skilled and knowledgeable role models."
"By the end of this course I will be able to confidently understand and apply the values of international and multicultural communications and knowledge sharing," said Phoenix Gordon of FFTC Class 6. "My goal is to learn all I can about overcoming difficulties faced in developing countries and to be able to be a part of the solution."
"I am beyond thankful for FRITA, the Irving K Barber Foundation and JIBC," said FFTC Class 8 grad Yousif Safar. "Just the thought of going to a foreign country to volunteer and learn about their culture is mind blowing and will really help me with my future career goals and also give me some great life experiences."
The One World scholarship recipients will be documenting their experience online next month. To follow their activities during their deployment, visit the One World Scholarship & Fire Protection in the Global Community Facebook page.
About Justice Institute of British Columbia
Justice Institute of British Columbia (JIBC) is Canada's leading public safety educator with a mission to develop dynamic justice and public safety professionals through its exceptional applied education, training and research. JIBC offers internationally recognized education that leads to certificates, diplomas, bachelor's degrees and graduate certificates; exceptional continuing education for work and career-related learning and development; and customized contract training to government agencies and private organizations worldwide. Our education provides professionals with the knowledge, skills, and abilities to excel at every stage of their career contributing to safer communities and a more just society.
Last updated February 20, 2018