JIBC firefighting graduate recognized for excellence
Jon Baillie Award recipient ready to serve his community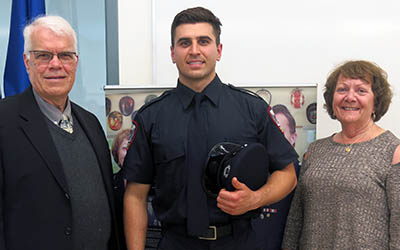 JIBC firefighting graduate Paul Lio (center) receiving the Jon Baillie Memorial Award from Bernie Magnan (left), chair of The JIBC Foundation Board of Directors and Linda Baillie
The Justice Institute of British Columbia Foundation (The JIBC Foundation) congratulates recent JIBC firefighting graduate Paul Lio from Oakville, Ontario the latest recipient of the Jon Baille Memorial Award.
Looking to fulfil his childhood dream of becoming a firefighter, Paul chose JIBC's Fire Fighting Technologies Certificate program, which provides the academic credentials, NFPA 1001 certification, and extensive live-fire experience and training from seasoned firefighting professionals and leaders.
The Jon Baillie Award recognizes a firefighting student's outstanding academic performance, demonstrated high proficiency in the practical skills they have gained from their training, and the leadership, teamwork and strong work ethic and professionalism they have shown throughout JIBC's pre-employment firefighting program. More than 50 JIBC graduates have received the award, created by the family and friends of the late Port Coquitlam Fire Chief remembered for his love of the Fire Service and his various contributions to the community.
On receiving the award, Paul said, "That was a great honour to get. I was shocked. I came here with the intention just to put my head down and work hard and it paid off. So I'm very grateful and very happy that that happened. It means a lot to me."
The award is made possible through donations to the Jon Baillie Endowment Fund. Contributions to The JIBC Foundation in memory of Jon Baillie are currently being accepted and can be made online or by contacting the Foundation at 604.528.5986 or foundation@jibc.ca.
Last updated August 2, 2017