The JIBC Foundation announces BC Hydro Community Safety Award recipients
Award provides funding to communities for specialized emergency management training provided by JIBC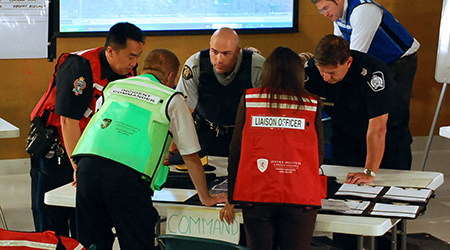 The Justice Institute of BC (JIBC) Foundation is pleased to announce the latest recipients of the BC Hydro Community Safety Award. These awards are made possible through the generosity and safety minded efforts of BC Hydro in an effort to make communities safer.
Eleven communities recently received the award, which will be used to fund specialized emergency management training provided by JIBC. The latest communities to receive the award worth up to $2,000 are:
Alberni Clayoquot Regional District
City of Colwood
City of Fernie
Fraser Valley Regional District
District of Maple Ridge
District of Mission
Namgis First Nation & Alert Bay
District of North Saanich
Village of Pemberton
District of Sooke
District of Tofino
"With the increasing number of natural and human-caused emergencies and disasters affecting communities in B.C., we are very pleased to be able to financially support the training needs in these communities," says Rick Page, Vice-Chair of The JIBC Foundation. "The Foundation greatly appreciates BC Hydro's continued support to increasing the capacity of communities to respond to emergencies and disasters."
"With Safety as a core value, BC Hydro believes in increasing the response capability of communities by supporting the training of first responders, employees and volunteers," says Larina Lopez, Senior Manager, Community Investment, Engagement and Public Education. "Working with Justice Institute of British Columbia provides us with the opportunity to ensure that the communities we serve have access to the best safety training skills available."
The BC Hydro Community Safety Award supports employees and volunteers of local authorities and First Nations communities in B.C. and enables them to complete emergency management courses and applied training offered by JIBC. These courses can be taken at a JIBC campus, online, or hosted in their own community.
Last month, the Alberni Valley News featured a story on a recent award recipient - the Cherry Creek Fire Department (Alberni-Clayoquot Regional District). The award enabled Svetlana Zaytseva, a 22-year-old volunteer firefighter, and her colleague, Rick Adams, to take the Incident Command System (ICS) 400 course offered through JIBC.
Four JIBC courses are available for funding through the award. The next deadlines for applications are May 31, 2015 and September 30, 2015. Details available on JIBC's Awards, Bursaries & Scholarships webpage.
About The JIBC Foundation
Since 1993, The JIBC Foundation has supported the Justice Institute of British Columbia (JIBC) by raising funds for student scholarships and bursaries, applied research, equipment and other tools for learning. By inspiring giving through various fundraising initiatives, the Foundation ensures that JIBC continues to maintain its worldwide reputation for excellence and innovation as Canada's leading public safety educator.
Last updated February 10, 2015