JIBC Foundation announces BC Hydro Community Safety Award recipients
Award provides funding to communities for specialized emergency management training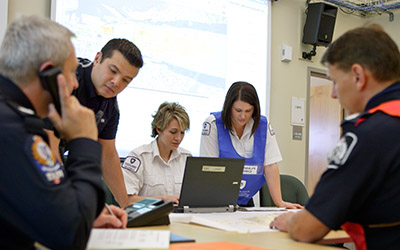 The Justice Institute of BC (JIBC) Foundation is pleased to announce the latest recipients of the BC Hydro Community Safety Award. These awards are made possible through the generosity and safety minded efforts of BC Hydro in an effort to make communities safer.
Thirteen communities recently received the award, which will be used to fund specialized emergency management training provided by JIBC. The latest communities to receive the award worth up to $2,000 are:
City of Burnaby
City of Campbell River
City of Colwood
Fort Nelson First Nation
Regional District of North Okanagan
Northern Rockies Regional Municipality
City of Pitt Meadows
Village of Port Alice
City of Port Moody
Squamish Nation
District of Squamish
Squamish Lillooet Regional District
Sunshine Coast Regional District
The BC Hydro Community Safety Award supports employees and volunteers of local authorities and First Nations communities in BC and enables them to complete emergency management courses and applied training offered by JIBC. These courses can be taken at a JIBC campus, online, or hosted in their own community.
"With the growing number of natural and human-caused emergencies and disasters affecting our province, we are very pleased to have BC Hydro support the training needs of emergency response leaders in BC," says Rick Page, Vice Chair of The JIBC Foundation. "As a longstanding partner, BC Hydro is playing a pivotal role in the development of exceptional public safety leaders and the building of safer communities."
Additional funding, generously provided by BC Hydro, will extend the award through 2016 and will grow the opportunity for more communities to participate.
"We integrate safety into everything we do at BC Hydro - keeping safety first in mind, heart and action," explains Tennille Wong, Manager, Community Investment. "Everyone has the right to be safe, and feel safe, which is why BC Hydro is proud to work with Justice Institute of British Columbia to ensure that safety and emergency training remains accessible to first responders, employees and volunteers in our communities."
Speaking on behalf of the Comox Valley Regional District, a recent recipient of the community award, Business Continuity and Emergency Planner, George Doerksen, shares what the award meant for his community. "During the recent floods we experienced in the Comox Valley, it became plainly evident to us and the local municipalities just how vital Emergency Management training is. The Comox Valley Regional District is committed to continue providing this much needed training to its staff, whenever possible. The generosity of BC Hydro made this training possible."
The next award application deadlines are September 30, 2015 and May 31, 2016. For more information, please visit the BC Hydro Community Safety Award webpage.
About The JIBC Foundation
Since 1993, The JIBC Foundation has supported the Justice Institute of British Columbia (JIBC) by raising funds for student scholarships and bursaries, applied research, equipment and other tools for learning. By inspiring giving through various fundraising initiatives, the Foundation ensures that JIBC continues to maintain its worldwide reputation for excellence and innovation as Canada's leading public safety educator.
Last updated September 11, 2015