The JIBC Foundation celebrates Giving Tuesday
Help make the season brighter for tomorrow's superheroes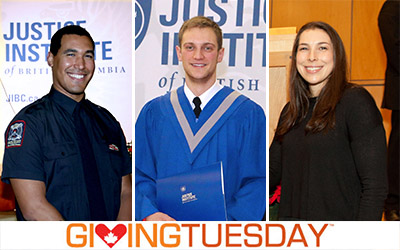 Have you ever asked a child what they want to be when they grow up? They often say, "I want to be a firefighter, police officer, paramedic or superhero!"
At The Justice Institute of British Columbia Foundation (The JIBC Foundation), we understand why kids equate first responders with superheroes: both protect the public, fight crime, and save lives. At JIBC, we are proud of our unique role as B.C.'s public post-secondary institution dedicated to training real life heroes.
On November 29, The JIBC Foundation is joining #GivingTuesday to give tomorrow's heroes the tools they need to save lives. Giving Tuesday is an international day of generosity that empowers individuals to make donations to important causes on the Tuesday following Black Friday and Cyber Monday.
There is no doubt that giving makes a transformational difference in the lives of JIBC students – often helping to narrow the financial gap and ensuring students have the best chance for success.
JIBC graduates in various public safety professions serving in the community have benefited from the generosity of compassionate individuals and caring organizations. This includes paramedic students like Matt Brown, recipient of the Beverley and John Carl Award, and Law Enforcement Studies Diploma graduates like Shauntelle Nichols, recipient of the Minerva Foundation for BC Women Award and the Bob Hull Memorial Award. For Fire Fighting Technologies Certificate student, Phoenix Gordon, a bursary kept his head above water as he pursued his lifelong goal of becoming a firefighter.
"The aid donors provide students goes far beyond the monetary. It is a step forward, leading toward our goals and realizing our dreams in new and rewarding fields provided here at the Justice Institute of British Columbia. I personally cannot thank our donors enough, as the help that we receive is what carries us beyond the dividing line between beginning our careers and staying stuck where we were."
"Giving Tuesday is when charities, businesses, and individuals come together for one simple purpose: to celebrate giving and to give back to causes close to their hearts," shares Bernie Magnan, Chair of The JIBC Foundation. "At JIBC, we want to give students the best possible environment for learning. Giving makes this possible."
No matter how you decide to get involved in Giving Tuesday, please take a moment to think about the difference you can make in the communities you live and serve. Also, we encourage JIBC students and graduates to share your stories on Facebook, Twitter or Instagram with the hashtag #JIBCGivingTuesday about how giving has impacted your life and studies at JIBC.
Be the one. Help us, help JIBC students. To donate, visit jibc.ca/donate
About The Justice Institute of British Columbia Foundation
For more than 20 years, The Justice Institute of British Columbia Foundation (The JIBC Foundation) has inspired giving for important needs that enhance education, training, student learning and applied research at JIBC. These needs most often include student awards and bursaries, new equipment and technology, and other tools related to student success. As the recipient and steward of charitable gifts, The JIBC Foundation is building meaningful relationships with communities to support Canada's leading public safety educator.
Last updated December 20, 2016