The JIBC Foundation recognizes the generosity and support of donors on National Philanthropy Day
Commitment to support JIBC students by donors, community partners, and staff is making a difference and helping to keep communities safe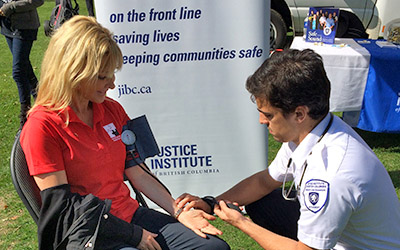 Making a difference: JIBC honorary degree recipient Wendy Lisogar-Cocchia with JIBC Paramedic Academy students volunteering at the 2015 Annual Women's Media Golf Classic in support of The Pacific Autism Family Centre Foundation
The Justice Institute of British Columbia Foundation (The JIBC Foundation) is pleased to recognize National Philanthropy Day® and the positive role philanthropy plays in our world. The JIBC Foundation salutes all the individuals, corporations and organizations that voluntarily give of their time, talent and treasure to nourish, develop, and enhance causes that benefit society.
National Philanthropy Day® is a grassroots movement to increase public interest and awareness of the importance of philanthropy. It is the day thousands of people in communities across North America recognize the countless ways philanthropy positively affects our world. In 2012, the Minister of Canadian Heritage declared November 15th National Philanthropy Day®, making Canada the first country in the world to officially recognize it. Since then, National Philanthropy Day® has grown as a day to celebrate the selfless actions and generous contributions of donors, volunteers, foundations, corporations, and other community leaders engaged in making a difference.
For over 20 years, The JIBC Foundation has inspired giving for important needs that enhance education, training, student learning and applied research at JIBC. For example, with the support of donors, Aboriginal students from rural and remote communities are receiving vital pre-hospital emergency medical training, and JIBC paramedic students can use to the latest infant patient training simulation equipment. And numerous scholarships, awards and bursaries provide financial support for JIBC students realizing their dream of a career keeping communities safe.
"It is amazing to directly experience the effect of our work, and to see how it impacts others — those who are recipients of gifts, and those who make a difference through their generosity of spirit," says Bernie Magnan, chair of The JIBC Foundation. "As we pause to celebrate philanthropy on this particular day, we urge everyone to embrace philanthropy and be philanthropic in your own way. On behalf of The JIBC Foundation, thank you for your part in making JIBC a stronger and generous community."
Giving is part of the DNA of respected B.C. business leaders and long-time JIBC supporters Wendy Lisogar-Cocchia and husband Sergio Cocchia, who were recognized in 2011 with an honorary degree from JIBC.
"Philanthropy means giving with a desire to make our communities and our world a better place to live, work, and play," says Lisogar-Cocchia. "We see a need for change and find ways to improve the quality of life for others. For us, philanthropy creates hope, passion and inspires others to take action and bring about change to causes close to their hearts."
The JIBC Foundation benefits enormously from the generosity and meaningful gestures of community partners, donors, and staff that support JIBC students and JIBC's mission to develop dynamic justice and public safety professionals through exceptional applied education, training, and research. On November 15, please take a moment to think about the difference you are currently making in the communities you live and serve.
For more information on The JIBC Foundation, or if you would like to make a gift that supports student success, contact The JIBC Foundation.
About The Justice Institute of British Columbia Foundation
Since 1993, The Justice Institute of British Columbia Foundation (The JIBC Foundation) has worked on behalf of JIBC to raise funds for scholarships and bursaries, applied research, equipment and other tools that impact student success. The Foundation is the recipient and manager of charitable donations and builds meaningful relationships with communities to support Canada's leading public safety educator.
Last updated November 18, 2015