JIBC further supports fire officer training in Quebec
Members of Cree Nation graduate from Fire Prevention Officer Certificate program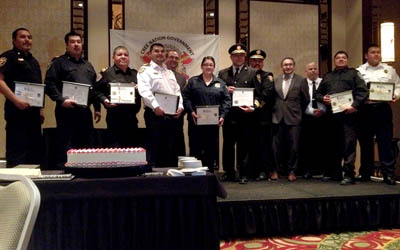 Eight members of the Cree Nation are the latest Quebec First Nations firefighters to graduate from a Justice Institute of British Columbia (JIBC) fire training program.
"I am proud to welcome these firefighters as new alumni of JIBC," said Peter Grootendorst, Director of JIBC's Fire & Safety Division (FSD). "The Cree Nation students showed great dedication and commitment in completing the program which, by its nature, is very challenging. While balancing their studies with full-time jobs and family responsibilities, they persevered to acquire not only expertise as qualified fire prevention officers but supervisory and leadership skills. This is another example of the positive impact of the community-based training we are providing in First Nations communities in BC and across Canada."
The eight firefighters graduated from JIBC's Fire Prevention Officer Certificate program, which has been designed to meet the competencies and training standards established by the National Fire Protection Association (NFPA) for fire prevention inspectors, investigators and public fire educators. JIBC has been accredited by both the International Fire Service Accreditation Congress (IFSAC) and ProBoard, and is the only institution in BC with courses and certificate programs that are accredited by both.
The firefighters rose to the challenge of the intense, 18-month program despite the fact the courses were delivered in English, which for some students was not their first language, that being Cree. Many of the students also travelled long distances from their home communities to attend the program, underscoring the Cree Nation Government's significant commitment to developing their own members through first-class training.
The graduating firefighters' perseverance was rewarded. Four were promoted into more senior leadership positions as a result of taking the program, and all the remaining students are now well positioned and qualified to take on such roles in their communities.
"I am very pleased with the Fire Prevention Officer Certificate Program. It gave my group and I the skills and knowledge to begin implementing fire prevention programs in our territory," said George Cox, Regional Fire Prevention Officer for Cree Nation Government. "I can honestly say that I have a new wider field of vision for fire protection services. And I want to thank JIBC for their services and support."
About Justice Institute of British Columbia
Justice Institute of British Columbia (JIBC) is Canada's leading public safety educator with a mission to develop dynamic justice and public safety professionals through its exceptional applied education, training and research. JIBC offers internationally recognized education that leads to certificates, diplomas, bachelor's degrees and graduate certificates; exceptional continuing education for work and career-related learning and development; and customized contract training to government agencies and private organizations worldwide. Our education provides professionals with the knowledge, skills, and abilities to excel at every stage of their career contributing to safer communities and a more just society.
Last updated November 7, 2017