JIBC graduates and Lower Mainland firefighters to train Panamanian fire service
JIBC to grant basic firefighting certificate to Panamanian students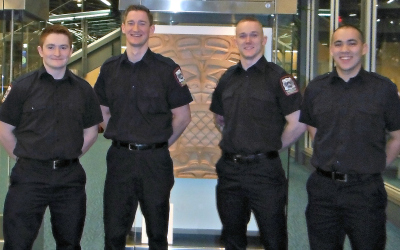 "An amazing opportunity to help others in a foreign country with training in firefighting skills and techniques." JIBC graduates (l to r) Ryan Millen, Milan Lavalee, Michael Crisp and Olivier Hovasse at YVR enroute to Panama to support training of Central American firefighters.
Four graduates of the Career Fire Fighter Pre-Employment Certificate Program at Justice Institute of British Columbia (JIBC) are leaving for Panama on January 28 to support firefighting training in the Central American country.
JIBC has partnered with Fire Rescue International Training Association (FRITA) to provide B.C. firefighting graduates the opportunity to support emergency services personnel training in developing countries.
The 2014 contingent is the fifth group from the Institute to travel overseas to instruct and train Central American firefighters in a variety of basic fire safety methods and procedures. In the previous four years, JIBC graduates supported training sessions in El Salvador.
"The One World program and our partnership with FRITA is a rare opportunity for JIBC graduates to support fellow firefighters working in challenging environments," said Charlene Jordan-Jones, Deputy Director of the Fire & Safety Division at JIBC. "The experience also helps to reinforce what they've learned and provides a unique insight into how fundamental principles of firefighting can be effectively applied in less than optimal circumstances."
The graduates' participation has been made possible through funding from the Irving K. Barber One World International Scholarship administered by the Victoria Foundation and with additional financial support from JIBC and The JIBC Foundation.
Unique to this year's deployment is the opportunity for Panamanian firefighting students participating in the program to gain a JIBC certificate in basic firefighting training. Participants will have done their own self-study and will be tested by FRITA representatives, who include experienced firefighters from Vancouver, Surrey, Coquitlam, Nanaimo and St. John's, Newfoundland.
"This program and our partnership with JIBC has the ability to transform the firefighting culture and operations for fire services not only in Panama, but across Latin America," said Brian Hutchinson, a director with FRITA. "The professionalization of the fire service that goes hand in hand with internationally recognized certification can provide the momentum needed to enhance both the capabilities and capacities of these fire service agencies to respond to emergencies, disasters and catastrophes."
For the graduates who received this year's One World scholarship, the deployment is the chance to apply what they've learned, make a difference, and learn more about themselves and others in the profession overseas.
"The One World Scholarship is an amazing opportunity to help others in a foreign country with training in firefighting skills and techniques," said JIBC graduate Olivier Hovasse, 23, from Vancouver. "I hope to learn as much as I can about the country and how their fire departments run."
JIBC graduate Michael Crisp said, "Spending time with such experienced firefighters will provide huge value and insight. I hope to achieve a higher level of knowledge and experience from our work in Panama."
Millan Lavalle, 23, from Delta, said, "This deployment will be my first opportunity to use my training as a firefighter to make a difference in the community."
Ryan Millen said, "Volunteering is a big part of my life and passing on the knowledge I received from the program to the Panamanian 'bombaros' [firefighters] is one of the best opportunities I can think of."
The JIBC graduates will document their experiences on the Four Students One World blog over the next three weeks at http://oneworldfourstudents.wordpress.com. After they return, they will deliver a final presentation on their field experience to peers, instructors, members of FRITA and JIBC staff.
About Justice Institute of British Columbia
Justice Institute of British Columbia is Canada's leading public safety educator. Our specialized programs lead to certificates, diplomas, bachelor's degrees and graduate certificates in Policing, Investigations, Emergency Management, Fire fighting, Paramedicine, Sheriffs, Corrections, Counselling, Leadership, Mediation, Conflict Resolution, and Driver training. JIBC also provides customized contract training to domestic and international governments, agencies and organizations. Our approach to education emphasizes applied learning and realistic simulations, delivered by instructors who are experienced practitioners. Every year, approximately 30,000 students study at JIBC. Their work makes communities safer, and helps people in need, throughout B.C., across Canada and around the world.
About Fire Rescue International Training Association
Fire Rescue International Training Association (FRITA) is entirely focused on the delivery of training-based international aid. A core belief of the association is that shared knowledge through training has the greatest value for firefighters serving their communities as first responders in countries around the world. We aim to meet their needs in a collaborative manner by establishing true partnerships with each recipient country's national fire service agencies. The origins of its efforts date back to 1994 with an initial shipment of donated equipment to El Salvador. Since then, fire service professionals with extensive international experience have managed or led more than 25 deployments to countries including El Salvador, Paraguay, Thailand, Peru and Panama. For more information, visit www.frita.ca.
Last updated September 19, 2016