JIBC graduates celebrated at 2018 Spring Convocation
Accomplishments of approximately 330 future justice and public safety leaders highlighted in Institute's 40th anniversary year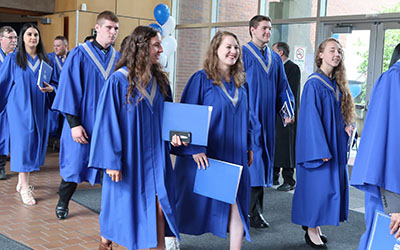 The achievements of approximately 330 graduates and honorary degree recipient, Justice Steven Point, were recognized at the Spring Convocation of the Justice Institute of British Columbia (JIBC) held at its New Westminster campus on June 14, 2018.
Now in its 40th anniversary year, JIBC has seen nearly 295,000 individuals enrol in its courses educating and training justice and public safety professionals in British Columbia and beyond. The newest graduates join more than 40,000 alumni of the Institute's programs, both non-credentialed ones and those resulting in certificates, diplomas, baccalaureate degrees and gradate certificates.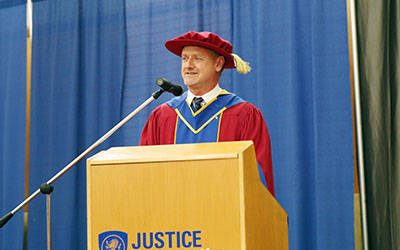 "The general public may not be aware of the incredible work that our graduates from these professions do each day, but the significance of what they do – what you do – is nevertheless great," said JIBC President and CEO, Dr. Michel Tarko.
"At the heart of our learning model is a focus on scenario-based training. And as I watch students and recruits practice how to respond to a wide range of real-life situations, I am constantly impressed by their dedication to service. It is that evident desire to be the one coming to the rescue on people's absolute worst days of their lives that never fails to give me hope for the future."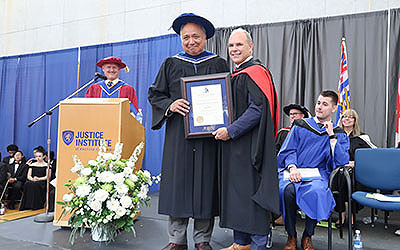 The Honourable Steven Point, a provincial court judge and former lieutenant-governor of British Columbia, the first Indigenous person to hold that office, was conferred an honorary degree in recognition of his dedication to public service and his leadership in the Indigenous community.
In his remarks, Justice Point stressed the importance of integrity, honesty and doing your best every day. "No one will listen to you, no one will take you seriously if you don't have integrity," he said.
"Each of you comes with a gift. Find out what it is, nurture it throughout your lifetime. Share it with everyone else. Life is like a library. Your job is not only to discover that which is inside its doors but also to make a contribution. Today is a beginning. A new one for you. And I hope and I pray for you that when you get to my place in life, you can honestly say that you've put a book on the shelf called your life."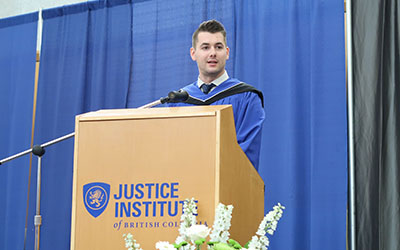 Kris Marquardt, who was graduating from JIBC's Bachelor Law Enforcement Studies program, spoke at convocation on behalf of all the graduating students. He called on his fellow graduates to never take education for granted as he described a life-changing trip he made to Ghana to volunteer in an orphanage. There he had met children who would risk beatings and starvation just to attend school.
Marquardt, who plans to pursue a career in law enforcement, also encouraged graduates to be accepting of differences and to always employ listening skills.
"We live in a world today where people are too quick to judge and form an opinion without listening first. As graduates of 2018, let's give someone the opportunity to talk and just listen to them," he said. "The power of listening can be an incredible thing, and if you don't believe me, ask any emergency personnel out on the street today what listening can do. We owe it to ourselves, we owe it to the world around us and most importantly, we owe it to the next generation."
About Justice Institute of British Columbia
Justice Institute of British Columbia (JIBC) is Canada's leading public safety educator with a mission to develop dynamic justice and public safety professionals through its exceptional applied education, training and research. JIBC offers internationally recognized education that leads to certificates, diplomas, bachelor's degrees and graduate certificates; exceptional continuing education for work and career-related learning and development; and customized contract training to government agencies and private organizations worldwide. Our education provides professionals with the knowledge, skills, and abilities to excel at every stage of their career contributing to safer communities and a more just society.
Last updated September 28, 2018