JIBC helping to train future emergency response leaders of Singapore
Overseas students study at JIBC New Westminster campus as part of longstanding relationship with Government of Singapore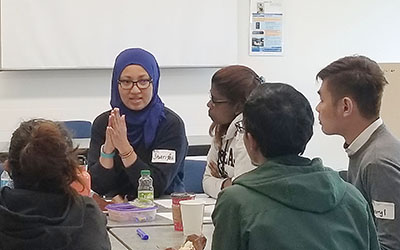 Students from Singapore University of Social Sciences engage in classroom discussions at JIBC's New Westminster campus.

Justice Institute of British Columbia (JIBC) is helping to train the emergency response leaders of the future in Singapore thanks to a longstanding relationship with that country's government.
The first cohort of 16 students from Singapore took courses in leadership in paramedicine at JIBC's New Westminster campus. JIBC is providing a total of five courses towards a minor in paramedicine and emergency response as part of a bachelor of science in biomedical engineering program at Singapore University of Social Sciences (SUSS).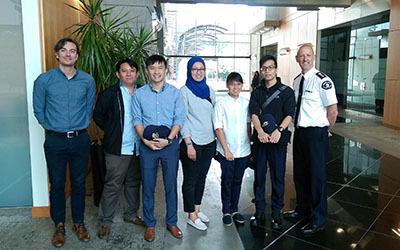 SUSS students and JIBC's Leon Baranowski, with Joe Acker, director of patient care delivery for BC Emergency Health Services (BCEHS) following a field experience visit to the BCEHS offices.

"JIBC is proud of the long-standing relationships it has in Singapore where we have supported paramedic training programs for the Singapore Armed Forces and the Singapore Civil Defence Force," said Barb Kidd, Dean of JIBC's School of Health, Community & Social Justice. "This cohort of students from Singapore at our New Westminster campus is further evidence of this strong bond and it continues to be our privilege to be involved in the expansion of paramedic education in Singapore."
Since 1996, JIBC's Health Sciences Division has worked with the Government of Singapore to develop paramedic training to support their emergency medical services system. In 2015, JIBC signed a memorandum of understanding (MOU) with the Singapore government's key agencies supporting paramedic services as well as two Singapore post-secondary institutions. The MOU outlined the intention of the parties to collaborate on enhancing paramedic training and improving pre-hospital emergency care in Singapore through promoting professional development via education programs. The minor in paramedicine and emergency response within the bachelor's degree in biomedical engineering is one result of the agreement.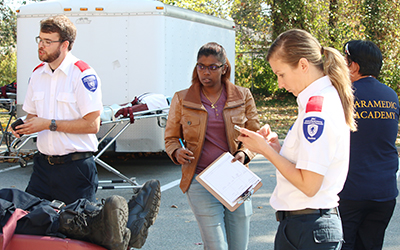 Students from Singapore participate in a mass-casualty scenario training exercise with students from the JIBC Paramedic Academy.

The 16 students studying at JIBC were divided into two streams – five who are medics from the Singapore Armed Forces and the Singapore Civil Defence Force and 11 students with varying, non-paramedic backgrounds. The second group work in agencies that will likely support the development of emergency medical services. In response to this interest, JIBC developed a leadership course that took into account their non-paramedic backgrounds.
In addition to classroom learning, while at JIBC the students from Singapore had the opportunity to visit sites of local emergency response agencies, including E-Comm and BC Emergency Health Services, and participate in a panel discussion with Canadian leaders in emergency medical services. On Sept. 13 the overseas students participated in scenario training of a mass casualty incident, along with students from JIBC's Primary Care Paramedic and Advanced Care Paramedic programs.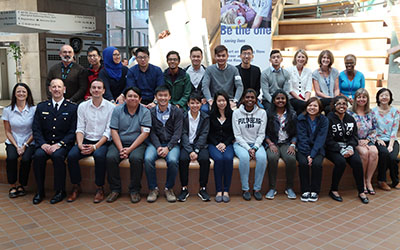 "This is the first and a unique partnership between SUSS and JIBC in the minor in paramedicine and emergency response program to educate Singapore students in management and leadership in paramedicine at a degree level," said Chui Ping Ooi, Associate Professor and Head of Program for the Bachelor of Science in Biomedical Engineering, School of Science and Technology, Singapore University of Social Sciences. "The face-to-face exposure provided students with experiential learning and a good opportunity to showcase and further hone their communication and leadership skills during class and simulation exercises. We hope to see more such collaborative activities between the two institutions moving forward."
About Justice Institute of British Columbia
Justice Institute of British Columbia (JIBC) is Canada's leading public safety educator with a mission to develop dynamic justice and public safety professionals through its exceptional applied education, training and research. JIBC offers internationally recognized education that leads to certificates, diplomas, bachelor's degrees and graduate certificates; exceptional continuing education for work and career-related learning and development; and customized contract training to government agencies and private organizations worldwide. Our education provides professionals with the knowledge, skills, and abilities to excel at every stage of their career contributing to safer communities and a more just society.

Singapore University of Social Sciences
Singapore University of Social Sciences (SUSS) is one of Singapore's six national universities and its mission is to provide lifelong education that equips learners to serve society. Home to more than 14,000 students, SUSS provides an applied education that targets both fresh school leavers and adult learners, with a focus on the social sciences. It adopts a flexible and practice-focused learning approach and offers more than 60 degree programs in various disciplines. Eligible students taking SUSS's undergraduate programs enjoy government subsidies and access to government bursaries, tuition fee loans and study loans. For more information on Singapore University of Social Sciences, please visit www.suss.edu.sg.
Last updated March 5, 2018