JIBC highlights graduates' accomplishments at 2018 Winter Convocation
Ceremony celebrates graduation of approximately 380 future justice and public safety leaders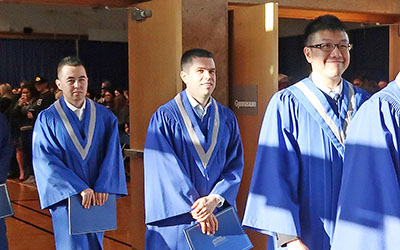 The Justice Institute of British Columbia (JIBC) recognized the achievements of approximately 380 graduates and its honorary degree recipient, Lorne Segal, at its Winter Convocation held at its New Westminster campus on February 8, 2018.
In his address to graduates, JIBC President and CEO, Dr. Michel Tarko, noted that JIBC will be marking its 40th anniversary this spring. In those 40 years of service, JIBC has seen nearly 295,000 individuals enrol in its courses, more than 40,000 of whom have graduated from its programs – both non-credentialed programs and those culminating in certificates, diplomas, advanced diplomas, baccalaureate degrees and graduate certificates.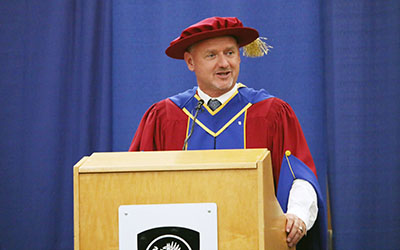 "JIBC was established in 1978 to create a more cooperative, collaborative model of educating and training justice and public safety professionals in British Columbia and beyond. Since then, JIBC has provided the education and training for professionals across the full spectrum of justice and public safety careers in BC and beyond in support of our vision – safer communities and a more just society," Dr. Tarko said, noting that JIBC students come from all cultures, life stages and walks of life.
"In the midst of our proud diversity, there is one thing I believe we all share: a passion and commitment to serve our community and make a difference. Each and every day, there are examples of our graduates supporting the health, safety and well-being of communities in BC, across Canada, and around the world."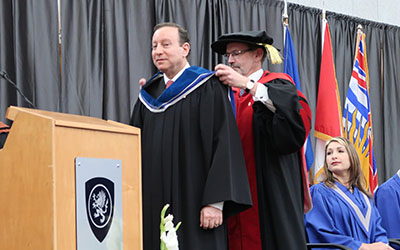 Business leader and philanthropist Lorne Segal was conferred an honorary degree in recognition of his dedication to community and philanthropy, in particular his commitment to raising awareness and funding to support people struggling with mental health and toward youth empowerment.
"I've found over and over now that if you say 'yes,' invariably some sort of magic will happen in your life which will open a door you didn't think existed. You will do more, create more, live more," Segal said in his address to graduates.
"Graduates of 2018, I want you to know that we need institutions like the JIBC, graduates like yourselves to build a better world. A world of peace, human brotherhood and understanding amongst peoples. As you move forward in the JIBC spirit of a just society, say 'yes' as often as you can and I promise that you too will find the magic which will open that door and bring you the joy you so richly deserve. Congratulations."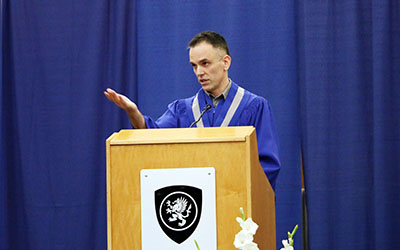 Jim Earle of Abbotsford, a 14-year paramedic with B.C. Ambulance Service, graduated with an Advanced Care Paramedic Advanced Diploma and spoke on behalf of his fellow graduates of the JIBC Paramedic Academy.
"None of [your future] patients or their family members will remember if you differentiated their chest pain appropriately, or whether you started an intravenous in a timely fashion," Earle said. "They will however, remember what you said, how you made them feel, if you were empathetic, and how you conducted yourself. Keep this in mind, and use it to shape your practice going forward."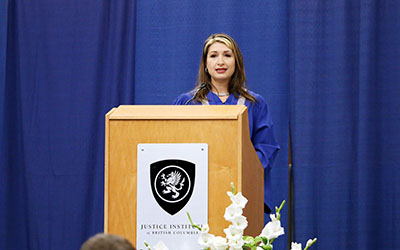 Leda Stawnychko, a graduate of JIBC's Certificate in Conflict Resolution, spoke at convocation on behalf of all the graduating students. The Calgary resident noted that JIBC offers programming in a flexible and accessible format. She recalled the challenges she faced as an immigrant coming to Canada on her own as a young adult, and encouraged her fellow graduates to take risks and face obstacles head-on.
"Completing my program with the Institute was truly a transformational journey. One of a kind. Our classes were beautifully diverse with students from all ages and walks of life," Stawnychko said. "Our class discussions were very rich precisely because we brought with us our very unique perspectives and passions.
"We understood the value of our program because we wanted to be better people," she said. "We also know we can make this world a better place."
About Justice Institute of British Columbia
Justice Institute of British Columbia (JIBC) is Canada's leading public safety educator with a mission to develop dynamic justice and public safety professionals through its exceptional applied education, training and research. JIBC offers internationally recognized education that leads to certificates, diplomas, bachelor's degrees and graduate certificates; exceptional continuing education for work and career-related learning and development; and customized contract training to government agencies and private organizations worldwide. Our education provides professionals with the knowledge, skills, and abilities to excel at every stage of their career contributing to safer communities and a more just society.
Last updated August 28, 2018