JIBC honours vital work of paramedics and emergency medical responders
Paramedic Services Week recognizes emergency medical responders across the country serving their community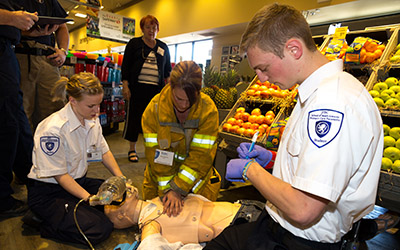 Justice Institute of British Columbia (JIBC) joins institutions and professionals across the country to commemorate Paramedic Services Week, which recognizes the crucial role of paramedics and other emergency medical responders in providing for the health and safety of communities across the country.
Each year, B.C.'s paramedics respond to more than half a million calls throughout the province.
JIBC takes seriously its role of advancing emergency health services education in B.C., which began in the mid-1970s with the pioneering work of Dr. Les Vertesi. The first Medical Director of the BC Ambulance Service, Dr. Vertesi was also the first Medical Advisor to what is now JIBC's Paramedic Academy.
"Paramedics are a vital part of our health care system, and JIBC is proud of its history working with pioneers in B.C. and across the country that have contributed to the advancement of paramedicine in Canada," said Dr. Michel Tarko, President and CEO of JIBC. "As the needs of emergency medical services continue to evolve and grow, JIBC is committed to providing the applied education and training required for health care professionals that help keep our communities healthy and safe."
"Paramedics and other people with first responder training are playing an increasingly important role in Canadian healthcare, not just in emergency responses, but in other areas as well," said Kathy Harms, JIBC Health Sciences Division Director. "Paramedics are not only assisting physicians and nurses in emergency rooms, they are supporting patients with in-home care and using their training in industry such as at remote mining and oil and gas resource sites."
JIBC's Paramedic Academy has remained the most prominent provider of first responder education in B.C. by responding to the needs of the community and other key stakeholders, and applying the latest best practices and technology. The use of tablets for students to access their reference materials in JIBC's Primary Care Paramedic (PCP) Program is one of the latest developments.
Whenever scheduling permits, JIBC students conduct joint training simulations with students in other health care programs. Recently, PCP students completed a joint exercise with nursing students at the College of New Caledonia in Prince George. Similar joint exercises have been conducted with nursing students at UNBC, North Island College and Douglas College. In the fall, the province's Mobile Medical Unit will run simulations with students at JIBC's New Westminster campus.
Paramedics looking to advance their careers have expanded opportunity to complete their ACP training at JIBC. With additional funding from the BC Ministry of Advanced Education, JIBC is expanding delivery of its ACP program. Applications are currently being accepted for the 2015 class at the New Westminster and Kelowna campuses.
JIBC's PCP and Advanced Care Paramedic (ACP) Programs are the only ones in B.C. accredited by the Canadian Medical Association and certified by the International Standards Association.
For more information about JIBC's paramedic programs, visit www.jibc.ca/paramedic. To find details about the Paramedic Academy's next information sessions, visit http://jibc.ca//course/parainfo001.
About Justice Institute of British Columbia
Justice Institute of British Columbia (JIBC) is Canada's leading public safety educator. Our specialized programs lead to certificates, diplomas, bachelor's degrees and graduate certificates in Policing, Investigations, Emergency Management, Firefighting, Paramedicine, Sheriffs, Corrections, Counselling, Leadership, Mediation, Conflict Resolution, and Driver Training. JIBC also provides customized contract training to domestic and international governments, agencies and organizations. Our approach to education emphasizes applied learning and realistic simulations, delivered by instructors who are experienced practitioners. Close to 30,000 students study at JIBC annually. Their work makes communities safer, and helps people in need, throughout B.C., across Canada and around the world.
Last updated June 24, 2014