JIBC to host largest multi-agency simulation in campus history
Staff from B.C.'s Mobile Medical Unit to be involved in the largest training simulation held at the New Westminster campus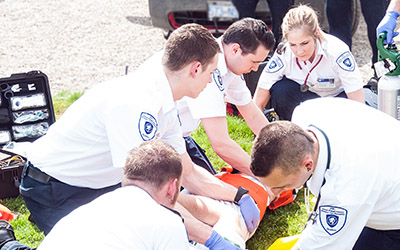 JIBC paramedic and law enforcement students will be involved in the largest multi-agency training simulation held at the New Westminster campus to date (Photo by Martin J. Marchyshyn)
Police are on site in a building where multiple individuals have been injured. Some victims are bleeding while others are unresponsive. Paramedics are assessing and transporting patients in urgent need of care to the nearest medical facility. Meanwhile, officers are on high alert as suspects may still be on the scene.
This will be the training scenario paramedic and law enforcement students will be participating in on Friday, October 17, 2014. It will be the largest multi-agency training simulation held at the Justice Institute of British Columbia's (JIBC) New Westminster campus to date.
The exercise has been organized with staff from the Provincial Health Services Authority's Mobile Medical Unit, the province's "hospital on wheels." Participants involved in this event include students from JIBC's Paramedic Academy, Law Enforcement Studies Diploma program, the JIBC Police Academy along with students from Douglas College's Bachelor of Science in Nursing program and psychiatric nursing program, and resident physicians from the UBC Faculty of Medicine.
"Simulations are really the heart of the applied public safety education and training that students receive at JIBC," said Dr. Laureen Styles, JIBC's Vice-President, Academic. "These training simulations provide students the opportunity to apply their knowledge and skills in a safe learning environment. This is an exceptional learning opportunity as an inter-professional event. Our goal is to make the portrayal of an emergency or crisis situation as real as possible; this sometimes means heightened noise and activity that goes along with such simulations on our campus."
The 90-minute simulations will take place in temporary field hospital facilities provided by the Mobile Medical Unit and in and around the Dr. Donald B. Rix Public Safety Simulation Building. The first training simulation will begin at 10 a.m. and the second simulation will begin at 1:30 p.m.
"We are pleased to be part of such a significant training event involving the full range of health care students," said Peter Hennecke, Clinical Operations Director. "In addition to being ready to be called out in an emergency, the Mobile Medical Unit is available for customized medical education opportunities for students, health care organizations and the general public across the province."
About Justice Institute of British Columbia
Justice Institute of British Columbia (JIBC) is Canada's leading public safety educator. Our specialized programs lead to certificates, diplomas, bachelor's degrees and graduate certificates in Policing, Investigations, Emergency Management, Firefighting, Paramedicine, Sheriffs, Corrections, Counselling, Leadership, Mediation, Conflict Resolution, and Driver Training. JIBC also provides customized contract training to domestic and international governments, agencies and organizations. Our approach to education emphasizes applied learning and realistic simulations, delivered by instructors who are experienced practitioners. Our students' work makes communities safer, and helps people in need, throughout B.C., across Canada and around the world.
About BC's Mobile Medical Unit
BC's Mobile Medical Unit is a valuable provincial resource, and a key component of business continuity, emergency management and disaster plans across British Columbia. It is a flexible provincial service offering clinical support ranging from primary and outpatient care, to emergency critical and emergency life-saving surgical care. This hospital-on-wheels can be deployed anywhere in the province when disaster strikes or when additional capacity is needed to cope with emergencies or large-scale public events. The MMU is also used to support planned hospital renovations and outreach clinics.
Last updated November 14, 2014