JIBC launches fundraising campaign to grow student bursaries
Be the one. Help us, help JIBC students.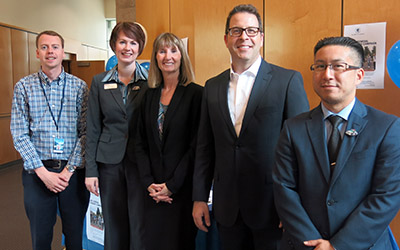 JIBC General Bursary Campaign launch at the New Westminster Campus June 2, 2015: Christopher Duffin, JIBC Development Officer; Tracy Campbell, JIBC Associate Director, Development, and Executive Director, The JIBC Foundation; Louise Perry, G&F Financial Group New Westminster Branch Manager; Blair Fryer, Director, The JIBC Foundation; and Raymond Tam, JIBC General Bursary Recipient
For many students, a bursary makes the difference between pursuing a dream in justice and public safety or giving up on it.
Of the 180 students who applied for a JIBC General Bursary last year, which provides tuition support for those demonstrating financial need, only 38 students received one. Simply put, student need exceeds the funding available.
To help narrow the gap, JIBC has launched a fundraising campaign. Individuals, businesses and organizations in the communities JIBC serves are encouraged to support future justice and public safety leaders by contributing to the JIBC General Bursary campaign.
For bursary recipients like Raymond Tam, the additional financial support has allowed him to continue his education. Currently a student in the Law Enforcement Studies Diploma program, Tam holds down a couple of part-time jobs and is an active community volunteer. His ultimate goal is to become a police officer.
"The JIBC General Bursary was crucial to my success," he states. "The campaign to raise money for general bursaries is significantly important to students, like me, as we strive for excellence in our programs."
As the first corporate donor, G&F Financial Group helped kick off the campaign with a $500 gift, presented by Louise Perry, New Westminster branch manager.
JIBC staff and faculty who support the campaign will have the opportunity to double the impact of their gift. Blair Fryer, a director of The JIBC Foundation, announced that the Foundation will match all staff and faculty contributions to a total of $10,000 for the duration of the campaign.
"It is our way to recognize the financial contributions of JIBC staff and faculty in a more meaningful way," said Fryer. "The Foundation is committed to this campaign and is eager to support our future justice and public safety leaders."
"This campaign is a collaborative effort shared by a variety of stakeholders who care about JIBC students," said JIBC President and CEO Dr. Michel Tarko. "Money raised will benefit everyone involved: faculty and staff members hoping to attract and retain deserving students, business leaders wanting to give back and build our community, and most of all, our students who will gain financial support and a big vote of confidence from all of us at JIBC."
Be the one. Help us, help JIBC students. To donate to the JIBC General Bursary Campaign, visit the JIBC Foundation Online Donation webpage.
About The Justice Institute of BC Foundation
Since 1993, The Justice Institute of BC (JIBC) Foundation has worked on behalf of JIBC to raise funds for student scholarships and bursaries, applied research, equipment and other tools for learning. By inspiring giving through various fundraising initiatives, the Foundation helps maintain the JIBC's reputation for excellence and innovation as Canada's leading public safety educator.
Last updated April 6, 2017