JIBC launches new firefighting pre-employment program
Fire Fighting Technologies Certificate to replace the Career Fire Fighter Pre-Employment Certificate
Future firefighters have a new program to gain the skills needed to be a sought-after fire service recruit.
Justice Institute of British Columbia (JIBC) is accepting applications for its new Fire Fighting Technologies Certificate (FFTC). The new program succeeds JIBC's longstanding Career Fire Fighter Pre-Employment Certificate Program, which recently graduated its one-hundredth class.
"The Fire Fighting Technologies Certificate is an updated career fire fighter program that was developed in response to the evolving needs of students and the fire service," said Peter Grootendorst, Director of JIBC's Fire & Safety Division. "The new program prepares fire service candidates with all the necessary skills to meet National Fire Protection Association (NFPA) standards, while also taking advantage of the latest advances in technology to provide a more flexible schedule for working professionals."
The new program is being offered in a blended format that combines online learning and face-to-face training. Students will be able to take online their liberal studies and firefighting knowledge courses at their own pace. And over seven weeks, they will receive their practical, hands-on training at the Maple Ridge campus, one of Western Canada's most extensive firefighting training facilities.
Students who complete the FFTC have the opportunity to continue their academic education. JIBC is the only post-secondary institution in Canada that has bridged professional training and certification into an academic pathway leading to the Bachelor of Public Safety Administration.
JIBC's Fire and Safety Division (FSD) is accredited to 42 levels of National Fire Protection Association (NFPA) standards by the International Fire Service Accreditation Congress (IFSAC) and the Pro Board Fire Service Professional Qualifications System (Pro Board). JIBC's firefighter programs have also been recognized for meeting the occupational training and learning requirements for Canadian Armed Forces firefighting personnel.
For more information about the Fire Fighting Technologies Certificate, visit www.jibc.ca/fftc, call 604.528.5909, or email fftc@jibc.ca.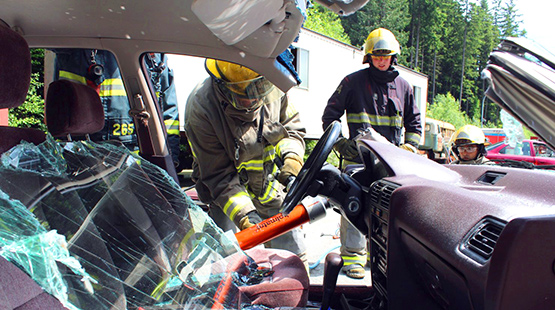 About Justice Institute of British Columbia
Justice Institute of British Columbia (JIBC) is Canada's leading public safety educator. Our specialized programs lead to certificates, diplomas, bachelor's degrees and graduate certificates in Policing, Investigations, Emergency Management, Firefighting, Paramedicine, Sheriffs, Corrections, Counselling, Leadership, Mediation, Conflict Resolution, and Driver Training. JIBC also provides customized contract training to domestic and international governments, agencies and organizations. Our approach to education emphasizes applied learning and realistic simulations, delivered by instructors who are experienced practitioners. Our students' work makes communities safer, and helps people in need, throughout B.C., across Canada and around the world.
Last updated October 28, 2014