JIBC launches part-time pre-employment firefighting program
Prospective firefighting recruits now have a part-time option in the Lower Mainland to complete their NFPA 1001 certification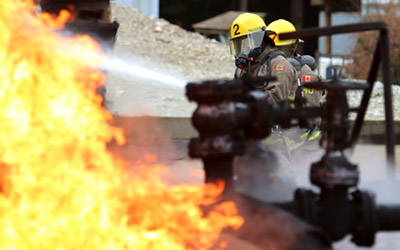 The JIBC Fire & Safety Division is excited to announce the introduction of a part-time offering of the Fire Fighting Technologies Certificate (FFTC) to complement our regular full-time offerings of this successful pre-employment program.
This part-time offering was developed to meet the needs of prospective students looking to obtain their NFPA 1001 firefighting certification and academic credentials while balancing their work and family commitments at the same time.
"Among the strengths of the FFTC program is the extensive hands-on, live-fire training our students receive at JIBC's world-class training facility in Maple Ridge," said Peter Grootendorst, Director of the Fire & Safety Division. "Students are taught by experienced firefighters from leading fire departments in the Lower Mainland each of whom serve as mentors as our students complete their training. Our new part-time offering maintains these essential strengths of the program."
The part-time offering includes up to 12 weeks of online learning, followed by more than 200 hours of practical, hands-on training at the Maple Ridge Campus spread out over three months. It will consist of evening classes on Tuesdays and Thursdays, full-day classes on select Saturdays and Sundays, and a final two-weeks of full-time live-fire training.
Applications are now being accepted as of February 9, 2018 for students wanting to enrol in the next part-time offering (Class 23) scheduled to start online in January 2019 with practical training beginning in March 2019.
Please visit the FFTC website at www.jibc.ca/FFTC for details of the program and to download the application package.
If you have any questions about the part-time offering, or any aspect of the FFTC program, please send an email to fftc@jibc.ca.
About Justice Institute of British Columbia
Justice Institute of British Columbia (JIBC) is Canada's leading public safety educator with a mission to develop dynamic justice and public safety professionals through its exceptional applied education, training and research. JIBC offers internationally recognized education that leads to certificates, diplomas, bachelor's degrees and graduate certificates; exceptional continuing education for work and career-related learning and development; and customized contract training to government agencies and private organizations worldwide. Our education provides professionals with the knowledge, skills, and abilities to excel at every stage of their career contributing to safer communities and a more just society.
Last updated September 13, 2018