JIBC law enforcement students gain an international perspective while on exchange
Law Enforcement Studies Diploma students can apply for scholarships that support international academic exchange opportunities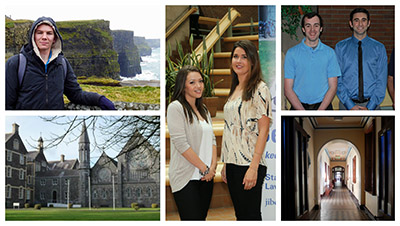 Awesome. Exciting. Unforgettable. A voyage like no other. These are just some of the ways students in JIBC's Law Enforcement Studies Diploma (LESD) program have described their experience spending a semester in Ireland.
Since 2013, LESD students have had the opportunity to receive up to $4,000 in scholarships to participate in an international academic exchange at the Waterford Institute of Technology in Ireland.
In 2016, eligible LESD students can apply for two scholarships:
The LESD International Exchange Scholarship, supported by the Irving K. Barber British Columbia Scholarship Society and administered by the Victoria Foundation, and The JIBC Foundation;
The Jim and Vicki Chu Legacy Award, supported by the Peter & Joanne Brown Foundation.
The application deadline for both awards is March 15.
Connie Marginson and Jaymi Kuniss are the most recent LESD students to spend their fall semester at Waterford. Like previous LESD students, they blogged about their experience on the dedicated webpage about the program. For both of them, their time overseas was a special chance to meet people from around the world, and gain new insights about criminal justice and law enforcement.
"Looking back on the past months, I've enjoyed so much about this trip that I could talk endlessly about my time here," said Connie. "I've learned so much about Irish history, culture and its people; it's an experience that I'll never forget."
"This has been an amazing opportunity and has taught me a lot," said Jaymi Kuniss. "My advice for anyone who chooses to take part in the exchange program is to take advantage of everything Ireland has to offer, but provide yourself with balance. Adjusting to the curriculum was a bit of an obstacle, because the grading system is different, but if you pre-plan your trips and make sure you dedicate time to all of your assignments, you'll be 'grand,' as the Irish say!"
Their experience echoes the feelings expressed by previous Waterford exchange students.
"Meeting so many people and experiencing the culture of what Ireland has to offer, really pushed me to learn more about the world," said James Hopping, who went to Waterford in late 2013. "It was not just the Irish people who helped make my experience so everlasting, it was also the international students. Meeting with them, hearing them talk about their own country, and in turn asking questions about Canada, was truly a unique experience."
Christian Dungey, one of the first LESD students to participate in the exchange said, "If I was presented with this opportunity again in the future, I would take it without any hesitation. Four and half months seem like a long time but it flew by so quickly and I had so much fun. It is something that I will take with me for the rest of my life."
The application deadline for the LESD International Exchange Scholarship and the Jim and Vicki Chu Legacy Award is March 15. For more information about the awards, visit JIBC's Awards, Bursaries and Scholarships webpage.
About Justice Institute of British Columbia
Justice Institute of British Columbia (JIBC) is Canada's leading public safety educator with a mission to develop dynamic justice and public safety professionals through its exceptional applied education, training and research. JIBC offers internationally recognized education that leads to certificates, diplomas, bachelor's degrees and graduate certificates; exceptional continuing education for work and career-related learning and development; and customized contract training to government agencies and private organizations worldwide. Our education provides professionals with the knowledge, skills, and abilities to excel at every stage of their career contributing to safer communities and a more just society.
Last updated September 10, 2019